Congratulations! You have made it to the final stretch of my three-part series on how in-email quizzes supply a more engaged lead generation and conversion effort. In part 1 and part 2, we discussed the process of creating quizzes that bring great conversion results and high engagement and share rates.
Part 3 is all about reading your analytics. "Oh, ya, the boring part…" Or is it? Understanding your data analytics can give you a detailed glimpse into the future and the possibilities that your quiz holds. Like Buzz Lightyear explaining the world to Woody, let's blast off "to infinity and beyond!" and get your quiz performing like a well-oiled machine!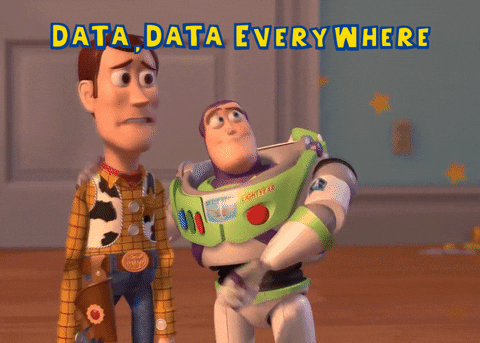 Know Thy Numbers
Let's be honest, most people (you, me, your dog) can get bored with numbers. Numbers don't feel special, and sometimes reading them feels like you're reading a different language.
Well, in a sense, they are a whole different language. In the case of quiz analytics, we are quantifying a group of real-life human actions and experiences with numerical metrics. What your audience was feeling, how likely they are to make the next decision, and what program, service, or product would serve them best are all presented by numbers.
While a little intimidating, quiz campaign data can unlock a new world of improvement and growth opportunities, you just have to know what to look for.
In this example, we will rely on Interact's dashboard to walk us through what quiz campaign metrics can mean and how they represent quiz performance.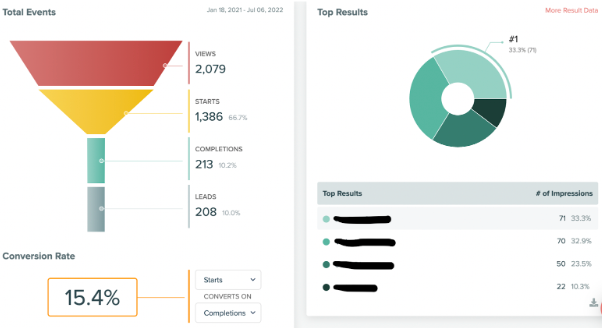 With the above visual data analytics, Interact gives a very nice representation of what quiz outcomes look like and where these outcomes place a given audience in the sales funnel.
This type of visual representation makes it easier to understand what is happening and gives us insights into how we can improve our quiz results going forward. The goal with any in-email quiz is to let it run for a set period of time to collect base data and then use this data to make magical changes along the way.
With the funnel graphic above, we can see that many people view and start this test quiz, which means that the landing page converts at a whopping 33%. That number alone tells us we have the right copy and call-to-action to draw people in.
But the graphic also raises concern that not many people end up converting — or finishing and submitting the quiz. But how do we get people to follow through with the entire quiz and submit their responses?
Well, there's the obvious of writing better questions by researching target audiences and their likes, dislikes, and interests. Only then will we be able to convert these engagements into leads and, eventually, customers.
Auditing Yourself For Better Results
Auditing your quiz-related efforts and results is a task that requires time, attention, and a lot of strategizing. That brings us to the "Questions and Answers" portion of a quiz campaign.
When deciding what questions to ask in a quiz, you want to ensure that each is clear enough to perform well. But to do that effectively, you need to rely on what has worked in the past, so revisiting previous questions and quizzes will be your key to success.
Questions are the focal point of any quiz, so they have the full power to make or break the "stickiness" of your prospect completing through. We can see that the drop-off of people who start seems to happen at the first question, and it gets significantly lower once people feel invested in completing the quiz by the third question.
So, it's safe to say that the better and more engaging the first question is, the better your overall quiz results will be. To get there, you should conduct depthful user research, understand your target audiences and their intents, and always audit your quizzes.
Stay tuned and connected with MailCon for more insightful content on industry trends, tech innovations, and more. 
[Editor's Note: This is the final article in a three-part discussion on why in-email quizzes are essential to client engagement, lead generation, and conversion. It is recommended to read parts one and two for a more rounded perspective on the topic.]