With mobile phones being the most widely used devices to open emails, you may lose a significant portion of revenue if you do not utilize responsive email templates. Now in 2023 — with competition in digital marketing at its peak — you cannot afford to send poorly crafted, misaligned, or distorted emails to your customers.
Responsive email templates have been the primary method of email marketing optimization for a few years now, as it's only natural to want all your recipients to have an equally pleasurable experience with your email letters.
Responsive emails are way better for targeting consumers — especially those checking their inbox on the go — whether you congratulate them on a milestone, offer a discount, or send a guide on your products or services. You have around eight seconds to gain the recipient's interest before they leave you for good.
Read on to learn how to target your busiest consumers with responsive email templates.
What Is a Responsive Email (Template)?
The word 'responsive' was all the rage in the 2010s when websites started adapting to various screens, operating systems, and browsers. Now the same has been applied to emails, even though a surprisingly high share of marketers still ignore the much-needed — and profitable — step forward.
So what is a responsive email letter?
A responsive email letter adapts to any device, operating system, and browser so that any recipient sees the message in its most effective and visually-appealing form. The magic is possible due to CSS media queries adapting the email letter to the screen.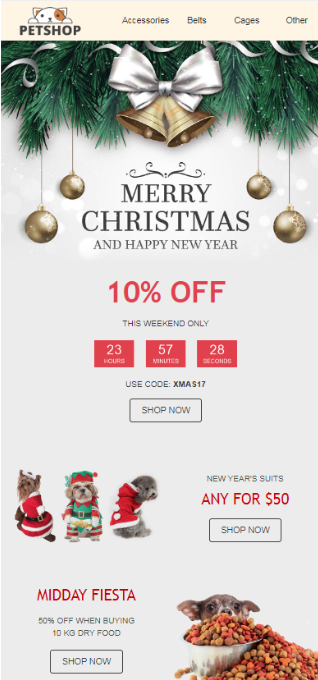 Source: Stripo
Unfortunately, not all devices and email clients support media queries, meaning you may have to design a fallback version of your email for recipients with compatibility issues.
Support for Media Queries Across Various Devices and Email Clients
Supporting Media Queries*

Not Supporting Media Queries

Partially Supporting Media Queries

Apple Mail macOS,

Apple Mail iOS, Outlook (macOS), Samsung Email, Mozilla Thunderbird (60.3)     

Gmail (mobile app), Outlook (Windows Mail), Outlook     

Gmail (web/desktop/Android/iOS), Outlook (iOS), Outlook.com, Outlook (Android), AOL, Yahoo! Mail  
Source: Emailnoacid.com
A responsive email template

is a ready-made email letter that you can quickly and easily change depending on the needs of a particular group of recipients.
If a responsive email letter is a win, then a responsive email template is a win-win, enabling a tremendously effective outreach of great flexibility.
Major Benefits of Responsive Email Templates
Enhanced user experience

: An improved customer journey is what responsive emails are designed for in the first place. Happy leads are more likely to buy — it's as simple as that.

Time and money saved on design

: Even the simplest HTML email may cost up to $100; an e-commerce email marketing agency may charge a few thousand dollars per month. On the other hand, with responsive emails:

You pay once and then can change the template for various categories of recipients.

You can get free responsive email templates on the web. Free templates may not be too advanced in design and customization but are usually adequate for basic email campaigns.
Easily editable templates

:

You can easily edit what you already have with drag-and-drop elements that you want to see in your email letter.

No need for performance tests

: Instead of spending resources on performance tests, you can find templates with a proven track record.

Increased metrics

: Email templates will help you increase the email open and click-through rates, decrease the bounce rate, and improve many other metrics to boost your ROI.

Room for automation and scaling

:

Automated emails are used by

51% of businesses

and drive

320% more revenue

than non-automated emails. Email templates will help you automate your outreach and scale.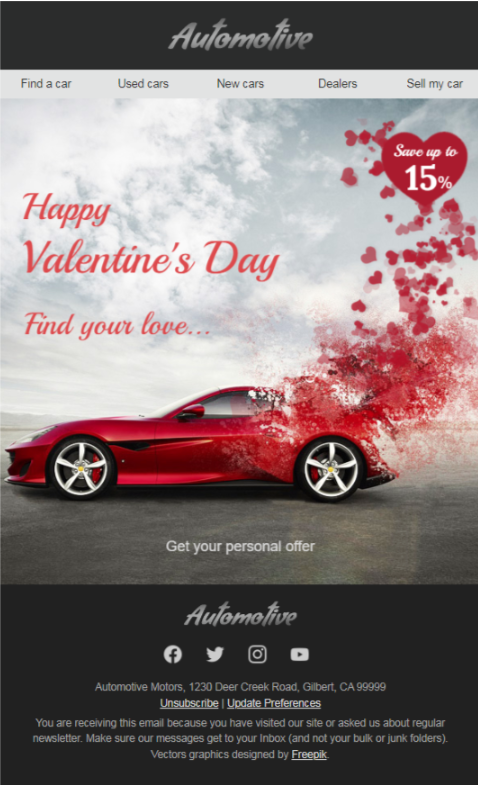 Source: Stripo
Where to Find Responsive Email Templates?
Should you search for free email templates or design them on your own?
If you are worried that someone can use your free email template —and, even worse, your customers recognize it – you may have to devise your own templates. Otherwise, start with free email templates.
Websites With Free Responsive Email Templates
| | |
| --- | --- |
| Bee |      1230+ free responsive email templates categorized by type, usage, industry, and season |
| Stripo |      1250+ free email templates organized by type, industry, season, features, and integrations. |
| Unlayer |      700+ free email templates categorized by usage, industry, and collections |
| Litmus |      60+ free email templates for product launch, account management, product marketing, and sales |
| Dyspatch |      10+ free responsive community-designed, AMP-powered email templates for transactional and promotional emails |
This is far from an exhaustive table of websites with free responsive email templates and an on-site template editor (all mentioned websites will allow you to edit their templates with their free email builder tools). There are dozens, if not hundreds, more.
Pay Attention to These Factors When Designing a Responsive Email Template
Creating a responsive email from scratch deserves a separate article, so we'll skip the coding part (you can check it here and here) in favor of the things worth paying attention to when designing your email templates.
Layout

: A simple 600-pixel layout will make your message most readable on mobile, whereas a multi-column layout will likely work best for tablets. In any event, test the display of your email letter across all popular devices before launching the campaign.

Fonts

: The rule of thumb is that bigger fonts are best — at least 14 pixels for regular text pixels and 22 pixels for headlines — especially web-safe fonts (supported by most operating systems): Arial, Brush Script MT, Courier New, Georgia, Garamond, Helvetica, Tahoma, Trebuchet MS, Times New Roman, and Verdana. You can also add fallback fonts that would display if your main font didn't work.

Colors

: Use contrasting colors and avoid background images for maximum visibility because many email clients don't support them. Also, use a fallback background color that would display in browsers not supporting RGBA colors.

CTA

: A good CTA is a 44×44 pixel fully clickable button with a personalized message unequivocally stating why the recipient should do what you offer them.

Images

: Image-powered emails usually look better than imageless ones. You can add GIFs for even more fun, but make sure to add ALT tags to images to ensure that the letter would look decent even without images, as many email clients block them.

The message itself

: There's no universal recipe for composing email letters, but the style should depend on the purpose of the outreach. A welcoming email may contain a detailed guide on your product or service, along with a CTA — a sales message may emphasize a discounted sale or free shipping; a confirmation email may be no more than a link and a couple of instructive sentences. The gist, however, is that the first screen of your email should capture the reader's attention at all costs. If your email takes several screens, place the most enticing part of it on the first screen and add some hooks to smoothen the scrolling sequence.

Subject line

: The subject line determines how many people will open your email. Keep the subject line short — around 50 characters — descriptive and personal.

Sender line

: Stick to a single naming format so your regular customer can recognize you faster when they receive your next email.

Footer

: You can arrange the footer once and maintain it for all your campaigns. Include your address, operation hours, sponsors, disclaimers, and other static information.
Light Mode vs. Dark Mode display

: With the lion's share of users occasionally

switching to Dark Mode

, you must ensure your email looks good in light and dark displays. Or you can make the Dark Mode default for emails delivered during evening hours.
Use These Metrics to Measure Your Success
You can use the metrics from the table below to understand whether the introduction of responsive email templates was significant for your marketing success (these are standard metrics, so you must be familiar with most, if not all, of them).
Marketing Metrics to Estimate the Performance of Responsive Email Templates
| | | |
| --- | --- | --- |
| Metric | Meaning | Average Across All Industries* |
| Open Rate | How many recipients opened your email |      19.8% |
| Click-Through Rate (CTR) | How many recipients clicked on the link inside your email |      11.3% |
| Conversion Rate | How many people clicked on the link in your email and then completed a target action          |      N/A |
| Bounce Rate | How many subscribers didn't receive your email      |      9.4% |
| Unsubscribe Rate | How many recipients unsubscribed from you after receiving your email      |      0.1% |
Sources: Constant Contact, Klipfolio, and Statista
The most popular metrics to estimate the effectiveness of email marketing campaigns are click-through rate (91%), open rate (86%), conversion rate (66%), and bounce rate (36%), followed by delivery rate (30%), earning per email (28%), and list growth rate (21%).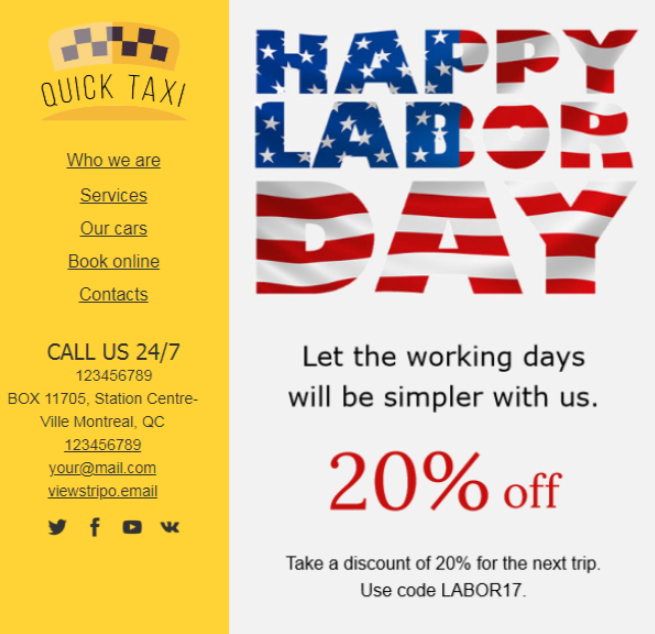 Source: Stripo
Words of Wisdom From the Best in the Industry
Let's face it — first-hand experience is superior to theoretical knowledge. You might have missed our most recent events —  the MailCon Mixer 2022 in New York and MailCon 2022 in Las Vegas — but you can still join the next MailCon forum from April 17 to 19 in Las Vegas.
Get your ticket and prepare to meet the top-tier email and omnichannel marketing executives from diverse industries, sharing their game-changing experiences and expertise with MailCon attendees.