With a 90.3% adoption rate among US internet users – comparatively, only 69% of US adults are on Facebook – email marketing is alive and doing well. In fact, 80% of marketers would instead give up social media before email marketing, a telltale sign of the power of a craftily composed email.
At a glance, building a successful email campaign isn't rocket science. You do this:
Attract and categorize leads to form effective email lists.

Compose a resonating message.

Measure your success to adjust, update, and innovate.
Voila! You have your leads under control: converted and turned into brand advocates.
If only it were that simple. 
In reality, you have to overcome three significant barriers: automation, scaling, and customization. And the more customers you have, the higher the price of every stumble. For example, if you lack automation, you are likely to make 320% less revenue than if you had your email processes streamlined.
But it's not that bad. There are dozens, if not hundreds, of platforms and even more tools to help you automate, scale, and customize your email messages and outreach campaigns. 
Below are the seven best ones. 
What to Look for When Choosing Your Email Marketing Software?
Luckily, you don't necessarily have to pay for email software. There are quite a few free tools that, if not all-encompassing, are just enough. But that's only if you know what you are looking for.
Consider the following when choosing your (free) email marketing software:
The number of sends per month

: No free software will offer you an unlimited number of sends, so make sure what you get is enough. 

Automation, scalability, and customization: Remember, as you gain more customers, you need to automate, scale, and customize. Your right email marketing software has to be able to cater to at least dozens of thousands of customers a month while being versatile enough to customize your letters to each group of leads..

Email templates

: Having a few hundred ready-made emails at hand can save your day when you have to act fast and/or, for some reason, cannot or don't want to create a letter manually. Or – more likely – you can just take a template and quickly customize it so it speaks to your target audiences.

Email builder

: An advanced email builder is an excellent tool to customize letters with drag-and-drop images, buttons, time counters, upsell offers, and other components.

Integrations

: Emails must easily integrate with other tools like your CRM and CMS to allow personalization, targeting, and relevancy.

Reporting

: Email open rate, CTR, bounce rate, unsubscribe rate, and other insightful metrics can help focus on successful campaigns and eliminate unprofitable ones.
Segmentation

: Automation, customization, and scaling are only possible if the segmentation is done correctly, allowing you to send the right message to the right people.
Free Email Marketing Software and Tools
#1: HubSpot
One of the biggest names in marketing, HubSpot, has everything you need for an elaborate email campaign, including free email marketing, reply tracking, email health reporting, and email automation.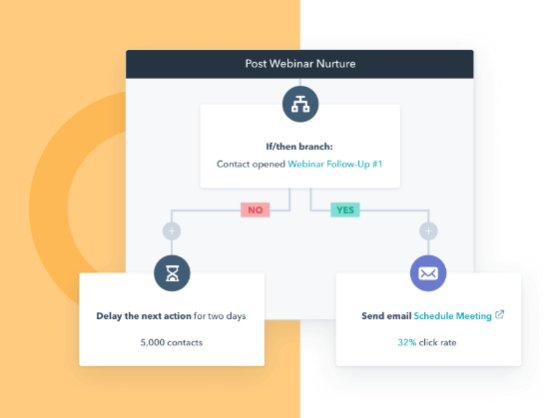 The free plan includes 2,000 free emails and 105 lists (5 active and 100 static) per month. And then, whenever you are ready to scale, you can switch to a paid plan from their Starter, Professional, or Enterprise packages. 
The best part is that the email software is built on a CRM, keeping you connected to your customer data to deliver on-brand, highly-customized emails to the right people at the right time.
#2: MailChimp
MailChimp is one of the best free tools for promotional emails, product updates, newsletters, and transactional emails, allowing you to segment your audience, create compelling emails, and track your performance.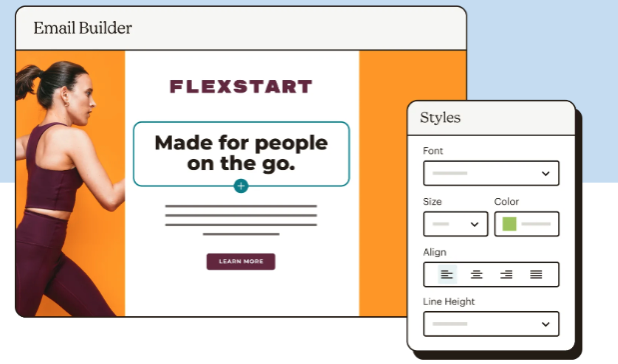 The free toolkit includes up to 2,000 sends per day and 10,000 per month, email automation, subject line helper, signup forms, marketing CRM, and multichannel tools to design and grow your business. Besides, they have plenty of email templates, so you won't have to do it manually.
In addition to its free suite, MailChimp offers three paid options across Essentials, Standard, and Premium membership levels. 
#3: MailerLite
MailerLite's free version doesn't offer pre-made templates, but it has a responsive drag-and-drop editor to customize a campaign for any purpose. Here are some of these features: 
Pre-built design blocks to quickly customize a newsletter.

Integrations with your e-commerce products to promote and personalize based on the client's recent purchases or touchpoints.

Interactive blocks to engage the audience, boosting CTR and conversions.
The sky's the limit with MailerLite. You can include images, embed videos, add countdown timers, pull in blog posts, tweak images with filters, shapes, stickers, etc., and do anything that can be done in an email newsletter editor.
#4: Sendinblue
Not only do you have to compose compelling letters, but you have to send them at the right time to the right people, be it a regular or transactional email. Sendinblue can help you with precisely that.
An automated workflow can be efficient at every stage of the marketing cycle. Here are some examples:
Onboarding message

: Instructions on how customers can purchase and use your product.

Product purchase

: Congratulations on the purchase and maybe an upsell or special offer.

Cart abandonment

: Asking why the customer decided not to go ahead.

Re-engagement

: Trying to re-engage inactive contacts before deleting them from the contact list.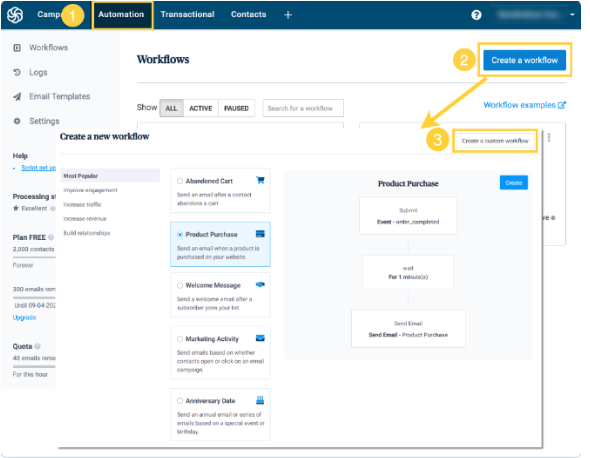 Multiple actions and conditions you can add to the workflow will allow you to configure the process the way you want, automating the delivery to every group of leads, up to 300 emails per day, in a free plan.
#5: Zoho Campaigns
Zoho Campaigns offers an inclusive free plan comprising responsive templates, a drag-and-drop template editor supporting dynamic blocks, a template library, and reports and analytics, all for 2,000 contacts and 12,000 emails per month.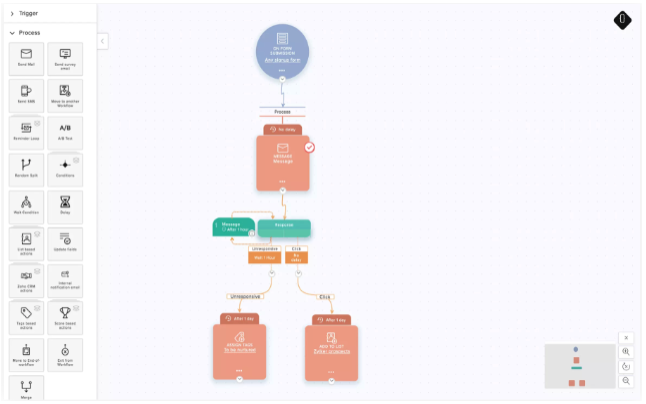 Automation-wise, you can choose from six templated workflows: onboarding, nurture, re-engagement, retention, e-commerce, and conditional workflows. But then again, the paid plans contain way more features, so you will likely want to switch at some point.
As an added layer to their free portal, Zoho Campaigns also offers Standard and Professional levels of access that provide more benefits and functionality. 
Paid Email Marketing Tools & Software
Whether it's worth pursuing paid software without even looking at free plans is an open question, but let's just say this: you can expect an average return of $42 for every dollar you spend on email marketing. 
#6: Drip (Free for 14 days)
Drip is a top-tier platform that charges depending on the number of contacts you deploy, starting from $39 per month for up to 2,500 contacts. The email marketing part of the ecosystem includes customizable workflows, email automation, email builder, and analytics, all aimed at automating, scaling, and customizing your email marketing.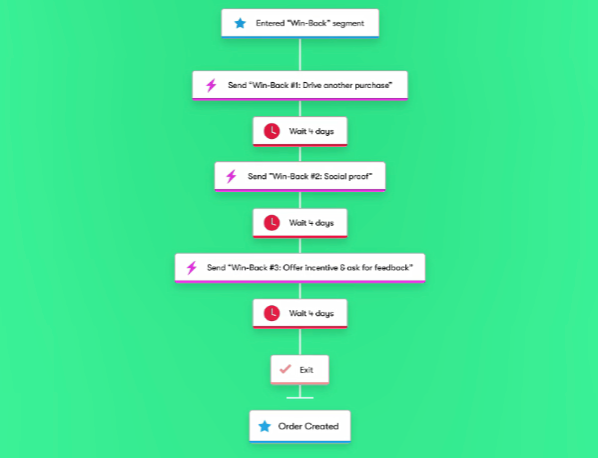 #7: Moosend (Free for 30 days)
Moosend is one of the most affordable paid tools for email automation, starting from $9 per month. But, if you have many subscribers or need extra credit, you may have to overpay: 1,000,000 email credits cost $1,000.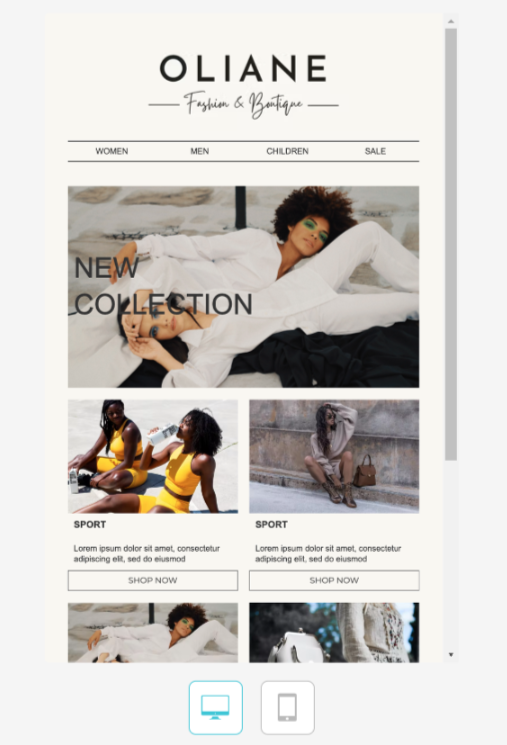 Like many of its analogs, Moosend unites a CRM platform and many marketing tools, the biggest being its value for the price. For as little as $9 per month, you can get multi-step automated workflows, branding-free emails, SPAM detection, and other advanced email features.
Check out our roundup of the top 8 email verification tools here. 
Meet the Best in Email Marketing Face-to-Face!
They say it's better to meet email marketing gurus at MailCon once than read about them a thousand times. So if you missed our recent events — the MailCon Mixer 2022 in New York and MailCon 2022 in Las Vegas — then get ready to meet the leading email and omnichannel marketing executives from diverse industries, all sharing their expertise and experience. 
Stay tuned and connected for updates on our next round of gatherings in 2023. 
See you at MailCon 2023!