Do you know that email marketing is one of the most effective channels for capturing the attention of target customers? It can bring you up to $36 for every dollar spent, a seemingly unimaginable profitability that yet is a reality for knowledgeable marketers.
Speaking of which, gaining email marketing knowledge through email marketing courses is one of the best ways to bring your success closer. Whether you are an aspiring or seasoned email marketer, there's always an email marketing course to take to become better.
Without further ado, let's shed light on some email marketing basics and then review the 5 best email marketing courses out there.
Email Marketing Basic
s
to Know Before Taking
Email Marketing Courses
At its core, email marketing is quite straightforward: you send a marketing message to subscribers or cold emails to trigger a target action, such as a click or even a right-away purchase (AMP emails). 
Aside from your major email marketing campaign goal you pursue, you can also complete additional objectives like raising brand awareness, nurturing customers, increasing customer loyalty and retention, and more.
Now, in reality, you need profound email marketing knowledge, probably propped up with email certification, to craft a compelling email that hits the right subscriber with the right message at the right time.
To acquire this profound knowledge, or at least email marketing basics for some footing in the game, you must complete email marketing courses.
How
Email Marketing Courses
Can Help You 
Becoming a certified email marketing specialist means learning lots of tricks to promote your business, gain new customers, increase sales, and leverage email marketing automation.
The latter is absolutely crucial in today's email marketing. Email marketing automation can make your campaigns cost-effective and allow you to scale, growing your subscriber base without sacrificing the quality of emails.
Last but not least, it's worth noting that your email marketing training is not limited to email marketing courses or email copywriting courses for that matter. There are email marketing seminars, shows, and events like MailCon that you can attend to deepen your knowledge, share experiences with other email marketers, and open up networking opportunities.
The Best
Email Marketing Courses
in 2023 and 2024
The online email marketing courses below will help you understand how it works and what you need for your email marketing campaigns to shine.
Omnisend Academy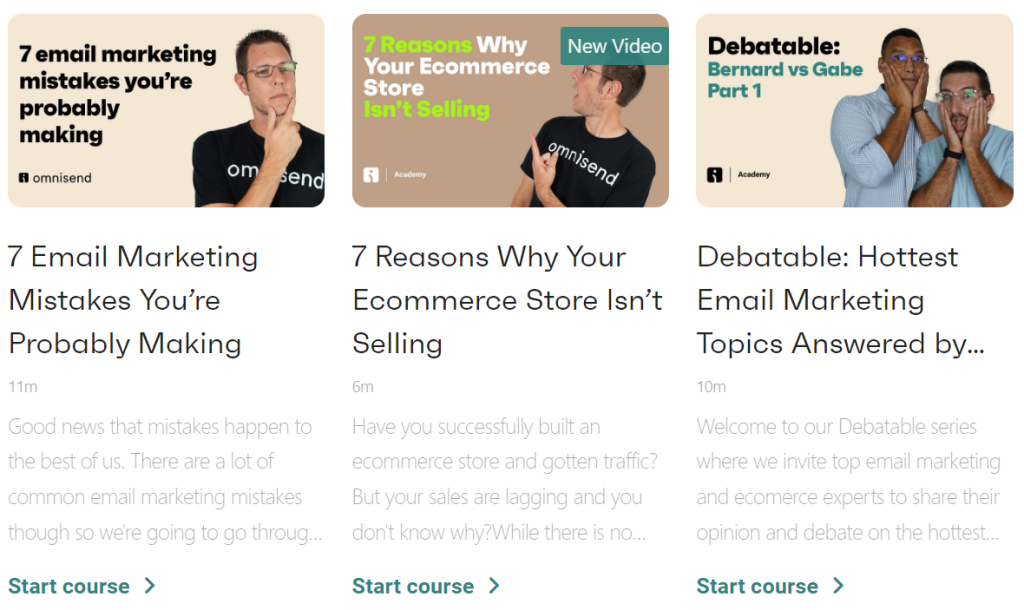 Source: Omnisend Academy
The free email course Omnisend Academy covers various topics, including reporting and automation, list building, and email design.
Omnisend Academy self-study email course is suitable for email marketing beginners, professionals, agencies, and in-house marketers. Qualified experts will share knowledge on how to create and measure the effectiveness of targeted and automated campaigns to increase ROI.
Email Marketing for Ecommerce — Take a Walkthrough of Omnisend's Platform (Product Demo)
Enrollment in the Omnisend Academy provides lifetime access to materials on learning email marketing, which the team regularly updates to stay in line with the latest trends in email marketing.
2. HubSpot Academy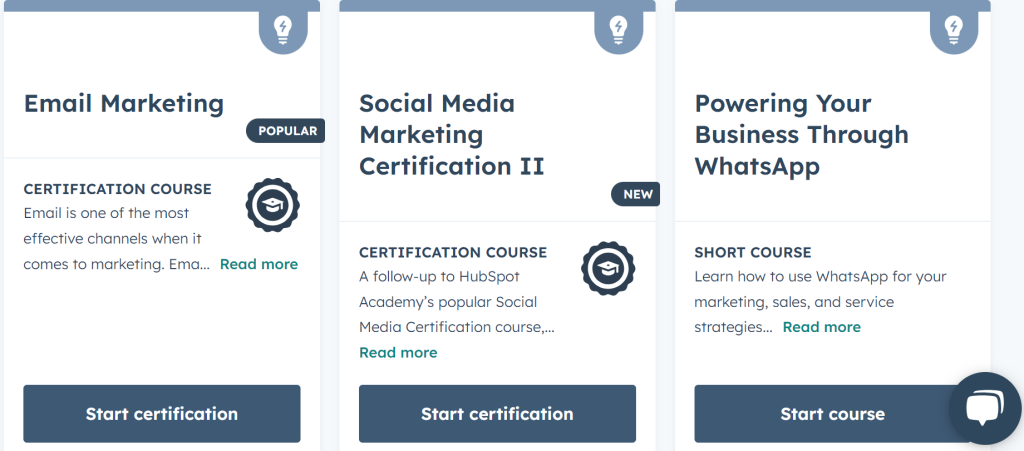 Source: HubSpot Academy
HubSpot Academy's free email marketing courses are ideal for beginners, covering a wide range of topics, from email marketing basics to all sorts of advanced strategies and tactics.
HubSpot Academy's free email marketing course is available in five languages. At the end of the course, you pass an exam to receive a certificate that you can put on your website, UpWork, or LinkedIn profile.
3. Mailchimp Academy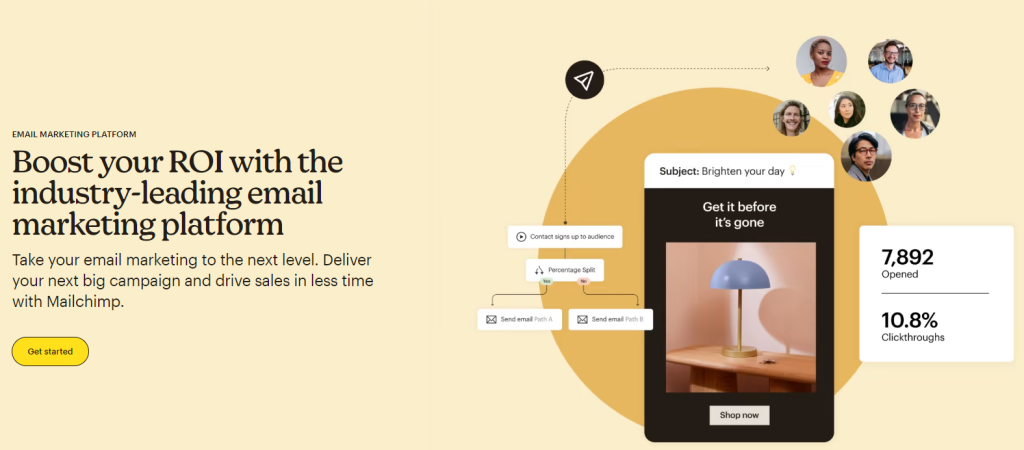 Source: Mailchimp.com
MailChimp Academy provides one of the best email marketing certification courses to help you understand email marketing basics. It's not just for beginners but also for those already familiar with email marketing and Mailchimp capabilities.
Technically, it's an email marketing free course, but to access it, you need to be a Mailchimp & Co. member. It's easy enough to become a member if you have a Mailchimp account, so you won't have to pay for the course.
Each participant receives a special certificate upon completion of the course. Moreover, Mailchimp Academy offers the option of earning multiple certifications, such as email automation and e-marketing.
4. DigitalMarketer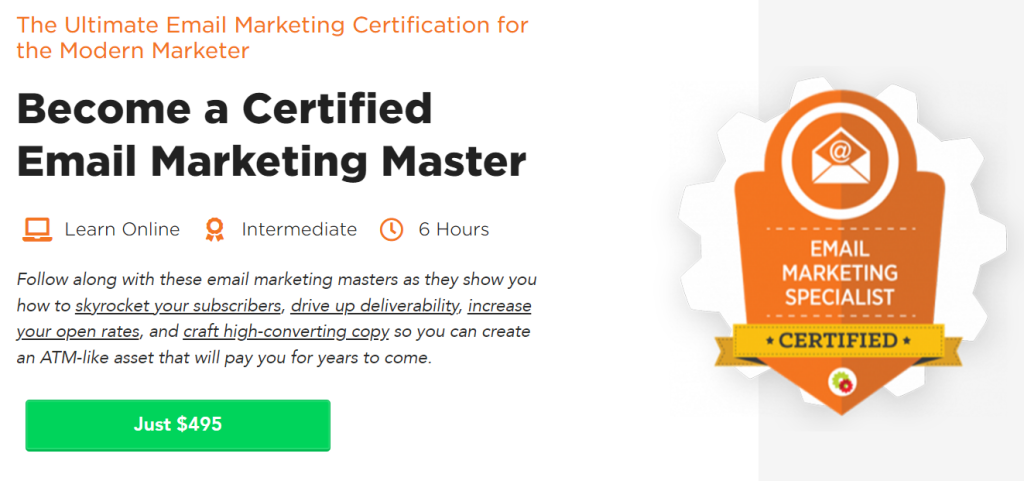 Source: Digitalmarketer.com
Digital Marketer offers comprehensive email marketing classes to help you understand the leading email marketing strategies and get a certificate confirming your specialization. However, the course costs about $495 and may be too hard for beginners.
5. Udemy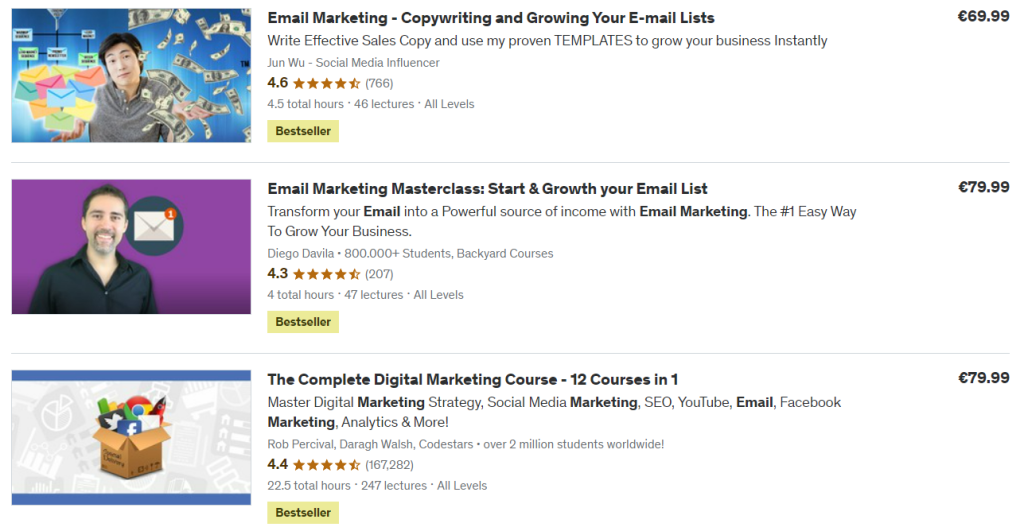 Source: Udemy
The video-based Udemy's online email marketing course is perfect for visual learners and busy people who don't have much free time. That said, the course has no interactive component besides the ability not to contact the teacher.
On the bright side, the content is broken into short fragments and, therefore, is easy to digest and remember. The price of the course varies depending on the choice of a training program.
Who Should Take an
Email Marketing Course
?
Considering the undeniable advantages of e-marketing, e-marketing courses will benefit those who:
Want to implement email marketing as part of their marketing strategy

Have an existing customer or contact database that hasn't received any prior mailings

Are looking for additional tools to boost sales

Want to sell through email campaigns or reengage inactive subscribers

Have their emails dropped in the SPAM folder
Email marketing courses can be your starting point to build effective email campaigns with consistent branding and an ever-growing user base. 
Join MailCon To Grow as an Email Marketer
Uniting thousands of email marketing aficionados, MailCon is a unique place to share experiences and gain knowledge. Subscribe to our newsletter on the homepage so you don't miss out on the next big event!
Frequently Asked Questions
Why should I
learn email marketing
?
Email marketing education is essential if you're a business owner looking for professional growth. Gaining the necessary knowledge through email courses will help you better understand your customers' needs and desires, enabling you to offer the right service or product at the most suitable time through your messages.
Why are these paid and
free email courses
the best?
Email marketing seminars from MailCon are selected based on our market research. You can do your own research to find the best email marketing course for yourself if the ones on the list are not enough.
Is it really worth spending time on
email marketing training online
?
Absolutely. Email marketing certification provides you with proof of knowledge and the ability to implement various email strategies and tactics.