Americans spend around 4 hours and 25 minutes daily in front of their mobile device screens, with the number steadily increasing as smartphone-driven purchases surge. It goes without saying that these potential customers are the bread and butter of craft marketers across all industries and scales.
Quite surprisingly, you don't have to reinvent the wheel to drive customers to the purchase in 2023. All you need is a well-thought-out SMS or text messaging campaign, the one covering around 74% of all website visits.
Without any further ado, let's dig into what text and SMS marketing is and how you can leverage it to generate and convert more leads.
What is SMS Marketing
?
SMS marketing is a digital marketing avenue that uses SMS to distribute advertising and promotional content. It's effective for all businesses, as it quickly helps achieve desired results.
What is SMS Marketing—Overview and Tips
The meaning of SMS marketing is that you can hit large audiences with cost-effective text messages, notifying customers about discounts, special offers, seasonal sales, and more.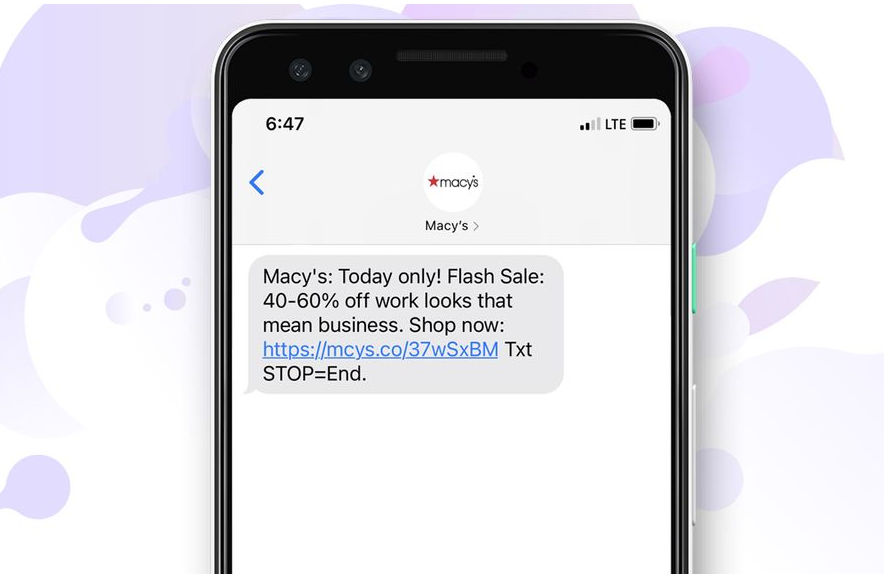 Source: Vertexsms
Marketing SMS messages are viable under different circumstances, making it a one-size-fits-all advertising solution. Via SMS, you can send greetings, booking confirmations, reminders, authorizations, account changes, and almost any other information that can be packed into a bite-size format.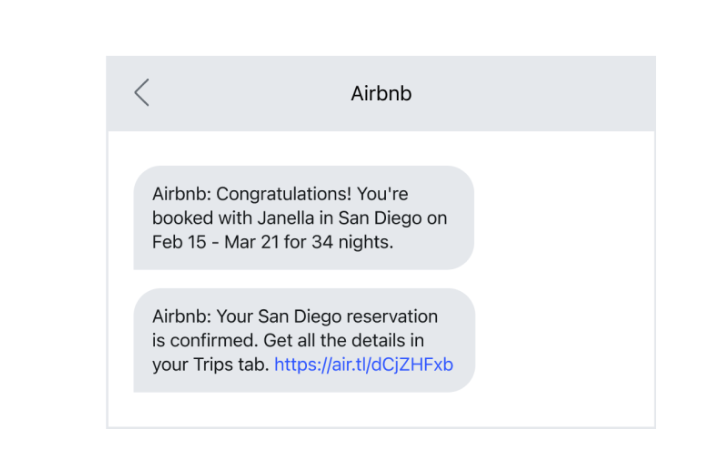 Source: Textline
3
Types of SMS Marketing
1. Promotional SMS marketing
Promotional text messages are designed to increase sales, promote a product, or increase brand awareness through one-off or multiple automated SMS messages with relevant offers.
The good news is that customers appreciate SMS notifications. SimpleTexting research confirms that 50% of respondents are willing to subscribe to SMS marketing to receive time-sensitive promotions and flash sales.
Using SMS marketing also gives you the opportunity to share brand news and innovations, promote company events, and even give advice on the proper use of the products you sell.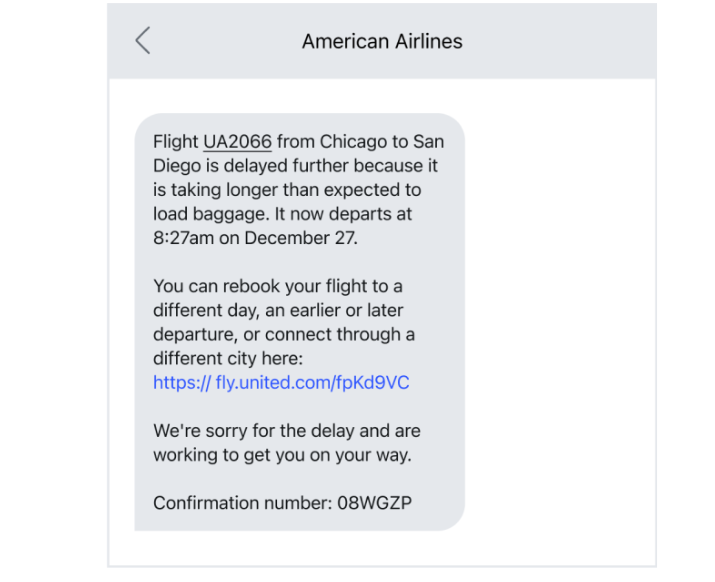 Source: Тextline
Moreover, there are trigger-based SMS messages sent as a reaction to a customer's action or when a certain event occurs. For example, if a trigger is activated when a product is added to the cart, your marketing software can hit the subscriber with a reminder to complete the order while the product is in stock.
2. Transactional SMS marketing
Transactional SMS marketing includes a message about a customer's interaction with your brand, such as details about a placed order. For example, if a customer makes a purchase, sending text messages with delivery information can be an excellent way to keep them informed and enhance loyalty.
Transactional messages are very straightforward and do not require creative design. However, if a customer subscribes to receive transactional messages, you cannot send them promotional campaigns unless they have provided explicit consent. Consent can be obtained by sending a separate message inviting them to subscribe, and only after that can you start sending offers.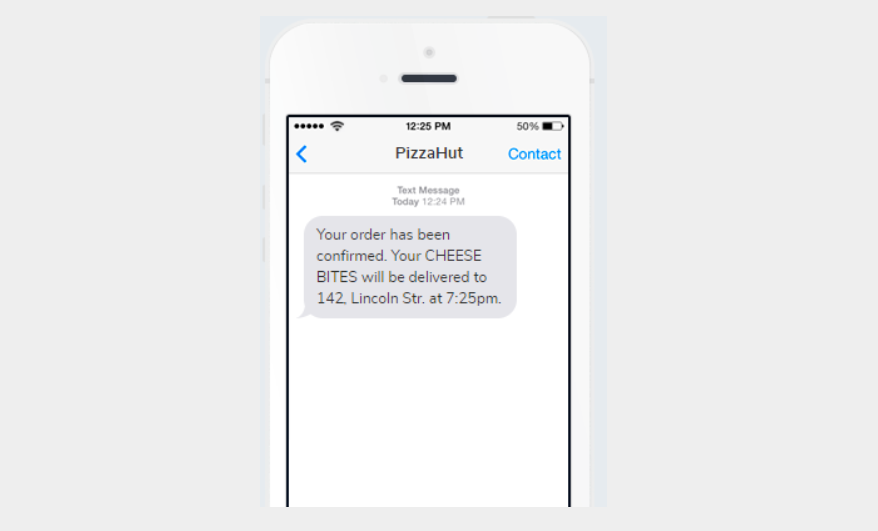 Source: SendPulse
Transactional SMS content for marketing helps improve service quality and customer experience, keeping customers informed about their actions.
3. Conversational SMS marketing
Conversational SMS marketing helps establish and maintain communication with customers. Unlike other types of SMS marketing business, dialog is more interactive and reduces response time. Brands use it to answer customer questions, sell products and services, and reduce the burden on the team. Automation and artificial intelligence (AI) are essential to this type of marketing.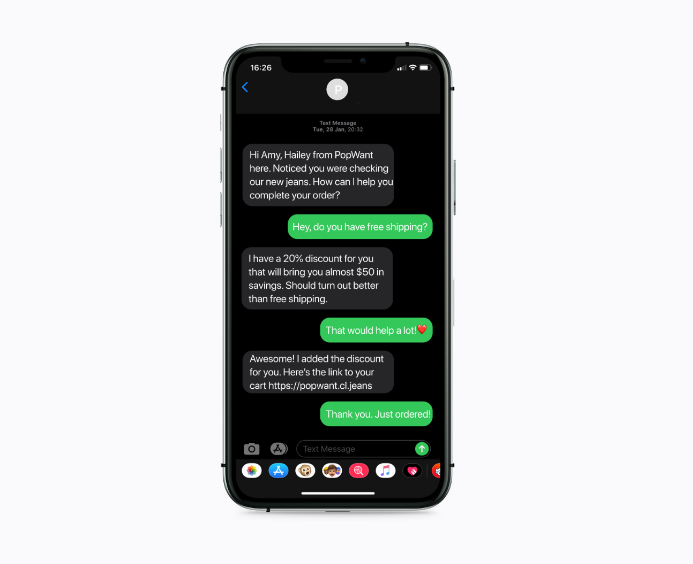 Source: Cartloop
Features of conversational SMS marketing:
Proactive yet non-intrusive lead generation:

Brands can initiate conversations first, for instance, using a chatbot in a widget when a customer is browsing the website. If the customer responds and shares personal information, the communication shifts to messengers, making it easier to initiate a dialogue.

Easy-to-use system:

Customers communicate with the brand through messengers they regularly use. There's no need to download a new app or figure out its functions.

Real-time personalized approach:

Addressing customers by name, mentioning details related to their purchase history and habits, and providing speedy responses help them feel valued.

Quick 24/7 request handling through automation:

A multi-channel chatbot can answer customer questions in messengers, involving a human specialist only when necessary. The use of AI and interactive messages can reduce wait times.

Accelerated sales funnel progression:

A chatbot qualifies leads and guides them through the sales funnel. A manager can step in at any stage without needing to repeat the questions the AI has already asked. Messenger's advanced functionality makes funnel progression seamless.
4
Benefits of SMS Marketing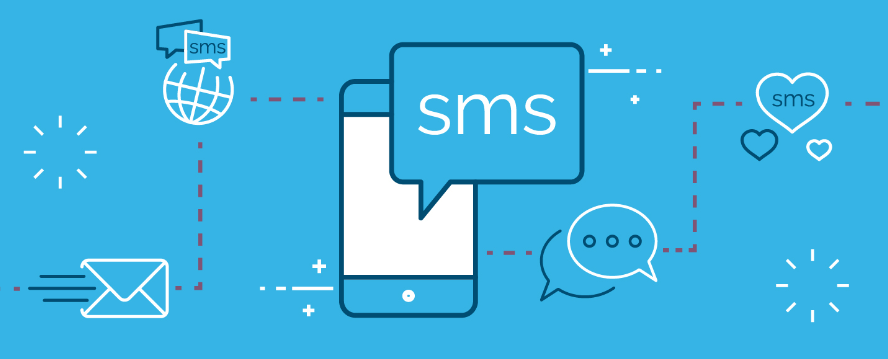 Source: LeadsDubai
SMS marketing has several advantages that set it apart from other marketing communication tools:
SMS marketing drivers higher customer engagement rates

SMS marketing allows you to reach customers instantly

SMS marketing creates personal relationships

SMS marketing compliments and enhances your email marketing strategy
Let's review these in detail.
1. SMS marketing drives higher customer engagement rates
Marketing via SMS is an excellent tool for increasing customer engagement levels. It allows you to interact directly with your target audience. As a result, conversion rates are higher compared to traditional communication channels.
Consider this example: To boost demand for their products, a company launches an SMS campaign that provides information about a specific promotion. For instance, it could be a game where consumers must find prize stickers in product packages and send back an SMS to get the prize.
2. SMS marketing allows you to reach customers instantly
SMS is an instant means of communication, taking a split-second to deliver no matter how many SMS you send at a time. Furthermore, you can be certain that 100% of your messages will get there, with no spam folders. Even if a subscriber is outside the coverage area, the SMS will reach them once they connect to the network. No other communication channel can boast such reliability.
3. SMS marketing creates personal relationships
SMS marketing is an efficient and convenient way to personalize communication with your target audience. It enables two-way dialogue, allowing customers to ask questions, provide feedback, or make suggestions, while you can respond in real-time.
An SMS marketing plan helps build stronger customer relationships because customers feel more engaged and connected to your company. Moreover, SMS messages are less intrusive than other forms of communication, such as email or phone calls, making customers more likely to open and read them.
4. SMS marketing complements and enhances your email marketing strategy
Consumer attention is divided among numerous communication channels, forcing marketers to employ multi-channel SMS marketing strategies.
One of the most effective ways to go omnichannel is by combining email and SMS marketing. Using email and SMS marketing campaigns together makes it easier to evaluate the effectiveness of each individual channel (as you have a similar channel to compare to) and develop a comprehensive marketing strategy.
Take Your Marketing Game To The Next Level with MailCon
SMS marketing is an effective tool to reach more customers in less time without spending a lot of money on advertising campaigns, but it's nowhere near exclusive to what you can use to step up your marketing game.
Discover MailCon in 90 Seconds
To acquire the ultimate email marketing toolkit and knowledge, join MailCon, the world's biggest email and omnichannel marketing conference and your personal email marketing advisor. 
Not only can you elevate your marketing game by reading insightful blogs, but you can also join minds with fellow email marketing professionals at one of the upcoming MailCon events. 
FAQ
How does SMS marketing work?
SMS marketing works as follows: Brands and companies send short promotional SMS messages to mobile devices of potential or existing customers.
The SMS marketing cycle includes:
Collecting contacts

Writing a message tailored to the interests and needs of the target audience

Sending SMS

Analyzing the results
Why use SMS marketing?
There are numerous reasons to use SMS marketing:
High click-through rates

Instantaneous delivery

Personal interaction with customers

High effectiveness

Supporting customer loyalty and engagement
How to use SMS marketing
Generally, you need to register with SMS marketing software, top up your account, and set up a campaign. This will take 10 to 15 minutes. The most difficult part is choosing among a variety of SMS marketing platforms.