Valued at $9.62 billion and expected to double by 2027, email marketing is still one of the best ways to sell online, even though it may seem outdated to those ignorant of game-changing innovations in the industry.
A well-thought-out email marketing strategy can grow your bottom line, increase brand awareness, and enhance the customer journey regardless of whether you sell insurance, software, movie tickets, or clothes. 80% of marketers would prefer to give up social media than email marketing.
Read on to learn how to boost your e-commerce business with email marketing.
Part 1: Implement the Best Practices of Email Marketing
Since the first email blast in 1978, thousands upon thousands of marketers have tried all kinds of tricks and tactics to find out what works for particular email recipients. As a result, not only were the top-performing strategies found, but it was estimated that the best of them can grow your ROI by up to 4,200%, granting you $42 for every $1 spent on crafting emails.
Here are the three top-performing email marketing strategies to grow your bottom line.
1. Segment Your Subscribers
Around half of your customers would like to receive promotional emails from you weekly, but this doesn't mean you should target all recipients with the same message. 
A more viable approach would be to customize your emails based on demographics, psychographics, purchases history, engagement, sales funnel stage, whether the recipient opens the email on mobile or desktop, etc. The more information you collect, the more personal you can be in your emails.
Ideally, your messages have to look like advice from a friend who wants to improve your life. See the example below: Spotify offers a journey through your favorite songs, trying to create a pleasant association with the platform. Simple yet very effective.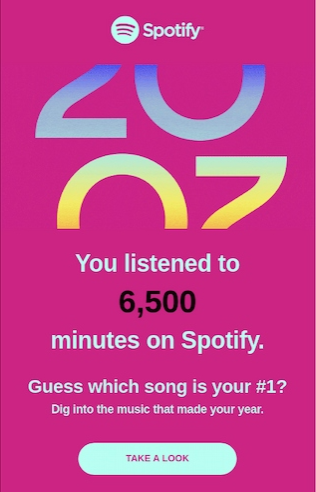 Source:HubSpot
2. Re-engage Cart Abandoners
What can scare shoppers off at this final stage of the cycle? You may not anticipate your customers to back off after adding a product to their cart, but around 70% of them do. 
Luckily, these high-intent leads are the easiest to win back. The reasons for abandoning a cart often include additional fees, forced account creation, complicated checkout, hidden payments, security concerns, lack of payment methods, inadequate return policy, etc. Ask shoppers why they abandoned the cart and encourage them to return by providing a coupon code or another special offer.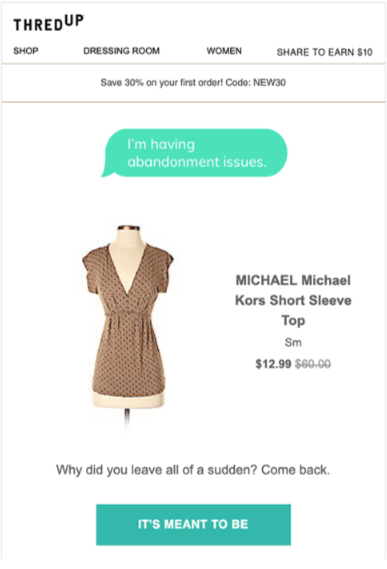 Source: ActiveCampaign
3. Create a Logical Customer Journey
Other than making the message coherent – keeping the subject line clear and the body of the email short, talking about the most important things first, and using the customer's personal details – you have to make sure it fits your brand image, shaping a single picture of a successful company.
To create a coherent, pleasurable customer journey for your leads:
Map the customer journey

to identify each interaction stage and touchpoint across all sales funnel stages.
Source: Skoolopedia
2. Synchronize your email marketing with the customer journey by creating a series of emails targeting every group of leads at every stage of the cycle. From awareness to consideration to decision to retention, each stage of the customer journey requires a different email – in content, style, color, etc. – with different sub-goals, all serving the sole purpose of converting leads into customers and, even better, brand advocates.
Part 2: Innovate To Be Ahead
We've touched only the standard practices so far – these may revolutionize your email marketing – but imagine offering your customers something unique, not available to your competitors.
Meet interactive emails, enabling recipients to take action directly from the inbox.
Called by many the most significant advancement since the inception of email, interactive emails allow recipients to:
See only relevant information in the email

. Whenever you open an interactive email, it returns the latest data, be it the number of seats left, the countdown to the end of the offer, or the number of mistakes your grammar app has identified.

Submit information directly in the email letter

. Not only do interactive emails shorten the sales funnel, but they also enable in-email conversions.

Standard email marketing funnel

: Sent->Opened->CTA Clicked->On-Site Conversion

Interactive email marketing funnel:

Sent->Opened->Conversion
Interactive emails are adored by millennials and especially zoomers, who prefer app-like performance over the desktop experience, demonstrating higher engagement and metrics across the board.
Some online sales giants have already taken advantage of interactive emails, such as, for example, SHEIN, the $100 billion Chinese online fast fashion retailer. Catering mainly to generation Z, they monitor trends, collect opinions, produce product pages, make partnerships with relevant factories, and sell what's trending while reducing the order-delivery cycle from a couple of months to around a week.

Interactive emails seamlessly fit SHEIN's strategy, as they enable one to collect information (quizzes, polls, etc.) and sell directly through email, all while issuing up-to-date content whenever the recipient opens their email.
Enhance Your Email Marketing Knowledge at MailCon 2023 in Las Vegas
There's much more to email marketing than we've discussed. Whether you have questions, want to exchange experience, or meet the best in the field, you can get it all at MailCon 2023 in Las Vegas and other MailCon events.
Book your spot now and get ready for a once-in-a-lifetime experience with an all-star lineup of speakers, a SaaS PitchFest, the first-ever Marketers Choice Awards 2023 gala, and the largest exhibition floor space to date.