The worst nightmare of every email marketer? Not having your emails delivered! 
Up to 20% of emails do not reach their destination for being either blocked by the recipient's Internet Service Provider (ISP) or sent to the spam folder.
Low

email deliverability

signifies the gradual death of your email marketing, costing you an arm and a leg and stomping your business into the muck.
On the bright side, email deliverability is well-known across the email marketing landscape and beyond, with the world's best minds toiling to create failproof email deliverability tools.
Today we will review 15 highly effective email deliverability platforms and tools that can ensure over 90% of your emails hit the inbox. Before we start, though, let's quickly run through the basics of email deliverability.
What Is Email Deliverability?
Email deliverability is the percentage of emails that reach the inbox, or the likelihood of your emails reaching the destination folder. For example, if 80 of your 100 emails reach the inbox – not the spam or promotions or any other folder – your deliverability rate is 80%, or there's an 80% chance of any particular email ending up in the recipient's inbox.
Email Deliverability vs. Email Delivery
Email deliverability is not the same as email delivery, causing a lot of confusion:
Email deliverability

is how many emails have reached the inbox; email delivery is how many emails have reached any folder, including the

spam folder

.
As you can see, a high delivery rate doesn't mean you're blessed with your email outreach, as you don't know how many of your emails hit the inbox versus how many have derailed into the spam folder. On the other hand, a high deliverability rate surely guarantees some attention from your recipients.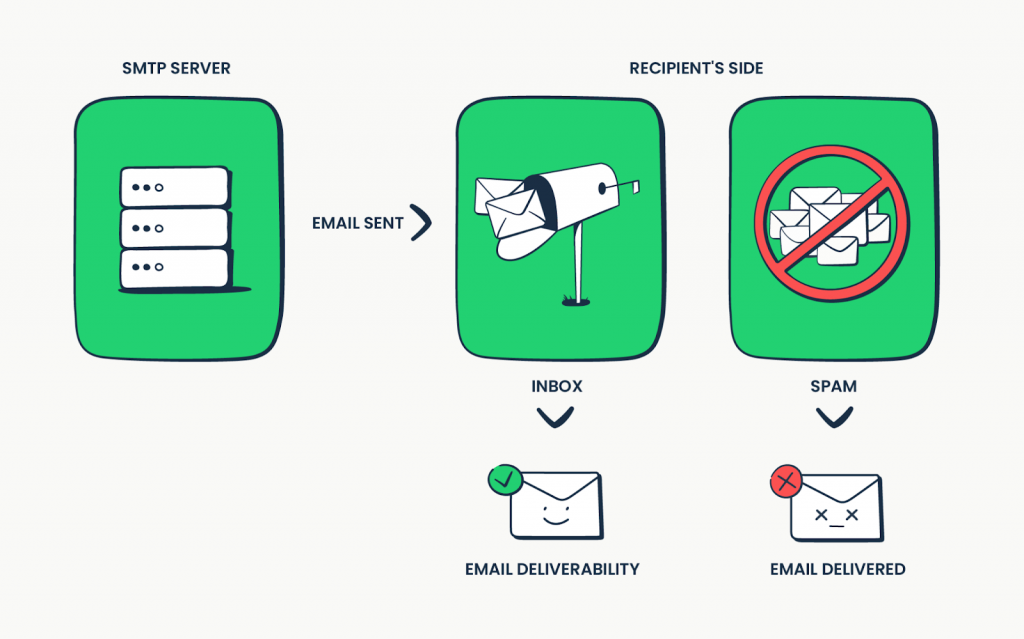 Source: Mailtrap
What Email Deliverability Rate Is Considered High?
The higher your deliverability rate, the better (duh). With a 90% deliverability rate considered excellent, it's hard to accurately determine your benchmark for the abundance of variables in the equation.
That said, there are some constant factors affecting an email deliverability rate.
Factors Affecting Your Email Deliverability Rate
1. Email Sender Reputation
Email sender reputation is a score assigned by your ISP based on how well your emails perform, including open rates, CTR, bounce rates, unsubscribe rates, spam complaints, and more. ISPs give little insight into their scoring methods, but it's pretty clear that reputation is King, especially in the eyes of Google or Microsoft.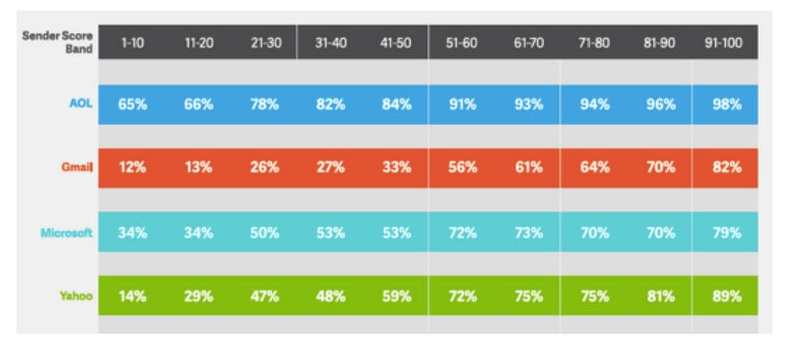 Source: Designmodo
Your email sender reputation can vary from 0 to 100, with 90 being considered good and anything below 70 extremely risky for your email outreach. A fair share of emails coming from a sender with a low reputation will be blocked, so it's no use bombarding people with emails before you've got your reputation fixed.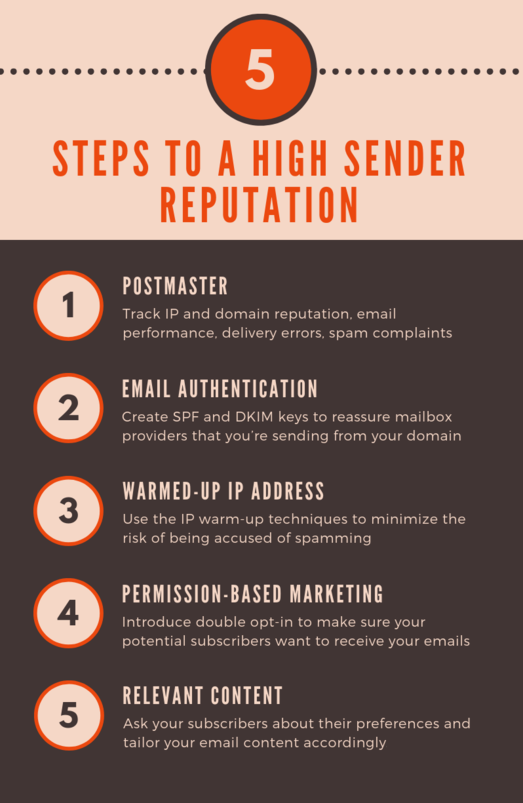 Source: Sendpulse
Read more about how to maintain a good email sender reputation.
2. Sender Policy Framework (SPF)
Sender Policy Framework (SPF) is an email authentication protocol used to verify that emails sent from a specific domain are authorized by the domain owner.
The SPF record is a list of authorized IP addresses and mail servers associated with the domain, allowing the email provider to verify that the email in question comes from an authorized source. 
The verification is done by comparing the sender's IP address with the IP address in the record. If the IP address matches, the email goes through; otherwise, it is blocked. SPF records unmistakably determine the legitimacy of emails, protecting users from spammers and impersonating phishing attacks.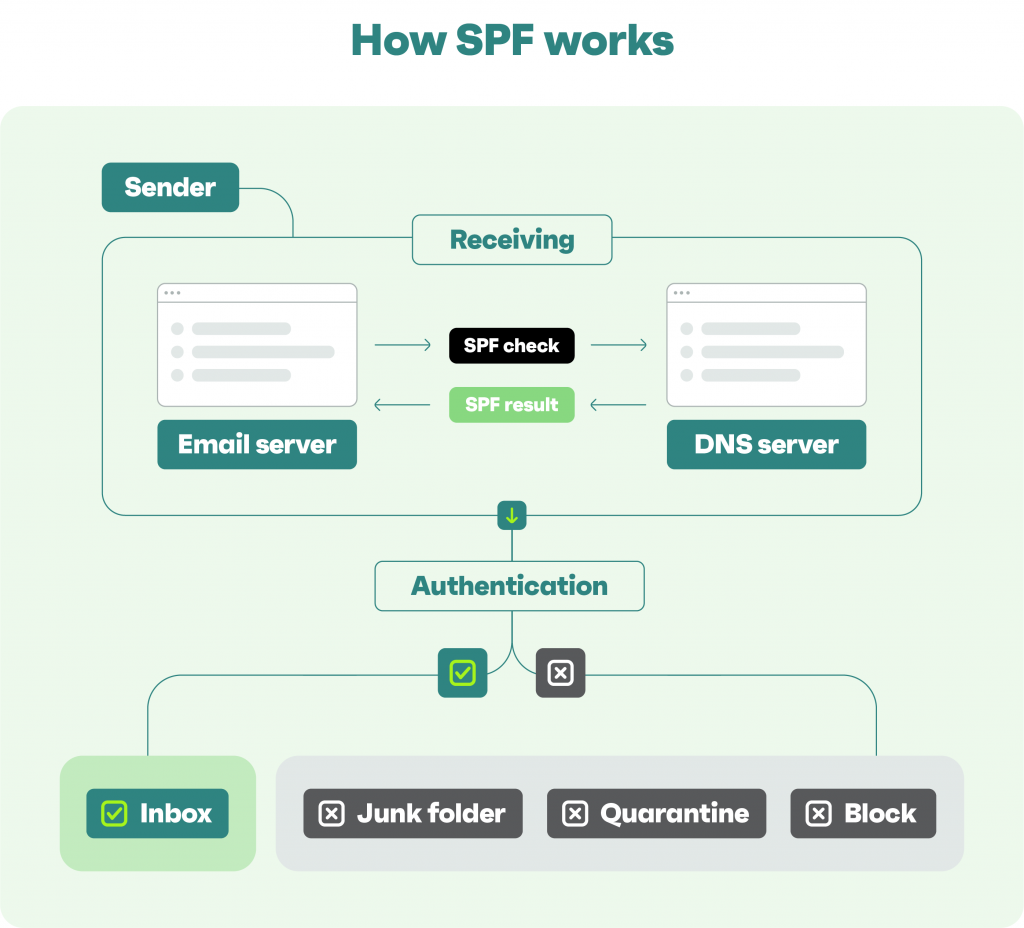 Source: Omnisend
Having an SPF-protected email adds credibility in the eyes of the recipient's ISP and increases your chances of hitting the inbox.
3. DomainKeys Identified Mail (DKIM)
Much like SPF, DomainKeys Identified Mail (DKIM) is an email authentication protocol that allows email providers to verify that you take responsibility for the email sent. DKIM uses cryptographic authentication to verify the sender's identity and ensure the message is not tampered with during transit.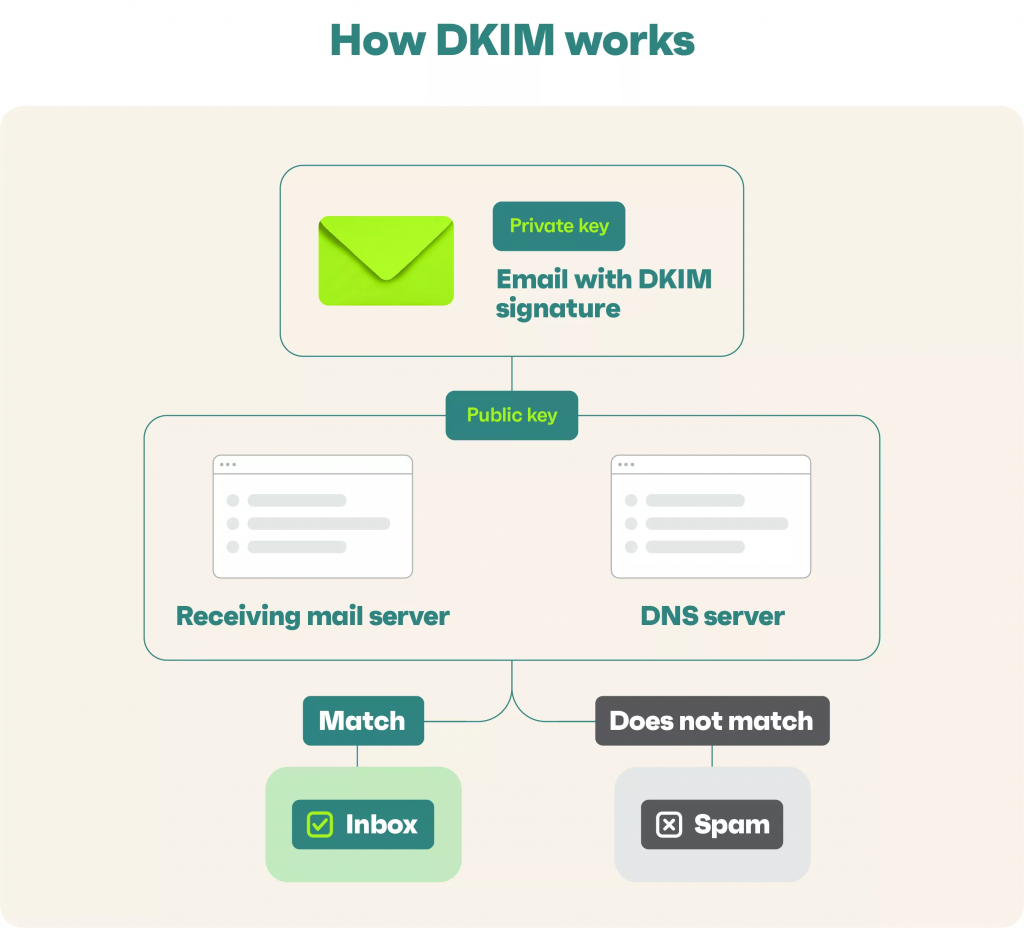 Source: Omnisend
In practice, the company adds a DKIM signature to the email header – serving as the assurance of the email's legitimacy – which the recipient's email provider can verify.
At the end of the day, though, the quality of content determines whether your subscribers fall in love with your emails, granting you a conversion chance. Read more about how to boost your email deliverability with quality content.
Can Software Help You Deliver More Emails?
Email deliverability tools can boost your email deliverability for any campaign, especially cold emails. Likewise, such software can identify why a particular campaign fell flat, whether blocked by the recipient's ISP or spam filters.
15 Most Effective Email Deliverability Tools in 2023
Twilio
A well-known marketing software suite, Twilio offers SendGrid, its proprietary deliverability platform, with an intuitive dashboard. Email analytics, tailored guidance, and bounce email insights will help you build tailored email outreach campaigns that resonate with your subscribers.

Source: Twilio
The free plan includes 100 emails per day for unlimited time. The paid plan starts at $19.95 per month for 50,000 emails.
MailTrap
MailTrap is an ecosystem for testing, sending, and managing your email infrastructure:
In-built sandbox

for

testing email deliverability

and validating emails without spamming the recipients.

MailTrap-reliable email API SMTP service

for effective outreach.

User-friendly dashboard

with deliverability alerts and 60 days of email logs for easy email management and improved debugging.
With MailTrap, you can share your testing with colleagues to synergize your work and get deeper omnichannel insights.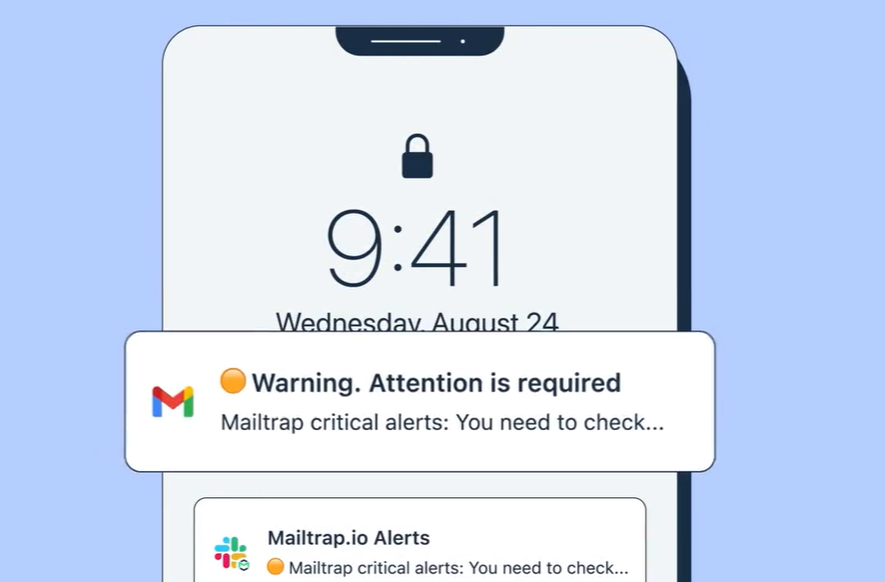 Source: MailTrap
The subscription price starts at $14.99 monthly for 5,000 email tests, or you can get 100 free email deliverability checks within a free plan.
SendPulse
SendPulse is a multichannel marketing and sales platform that provides advanced marketing automation solutions, including an email verifier. The verifier works with isolated emails and bulky email lists equally well, returning accurate verification results.
The verification process is super-simple: first, you upload your mailing list in the verifying section on the website; next, you've got a detailed report along with a refined list of verified email addresses.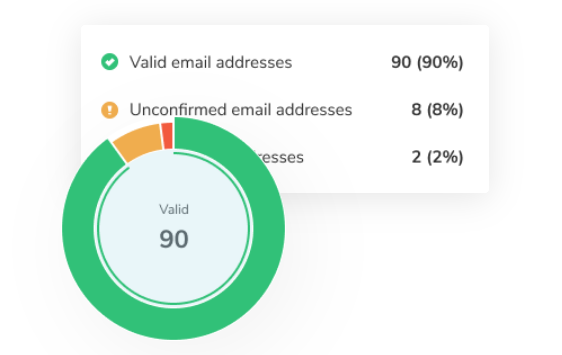 Source: SendPulse
The service grants up to 100 verifications for free; the cheapest paid plan costs around $3 for 1,000 verifications.
Mailtester
One of the most popular email deliverability tools out there, Mailtester has a monstrous toolkit comprising dozens of quality assessment instruments, grading your emails on a scale from 1 to 10.
Single email verification

: checking the validity of the recipient's address.

Bulk email verification

: sieving out invalid emails, spam traps, and abandoned

email addresses

.

Inbox placement

: identifying inbound spam emails with Gmail, Outlook, and iCloud.

Blocklist monitoring

: issuing

real-time

alters and monitoring blocklisted domains and IP addresses.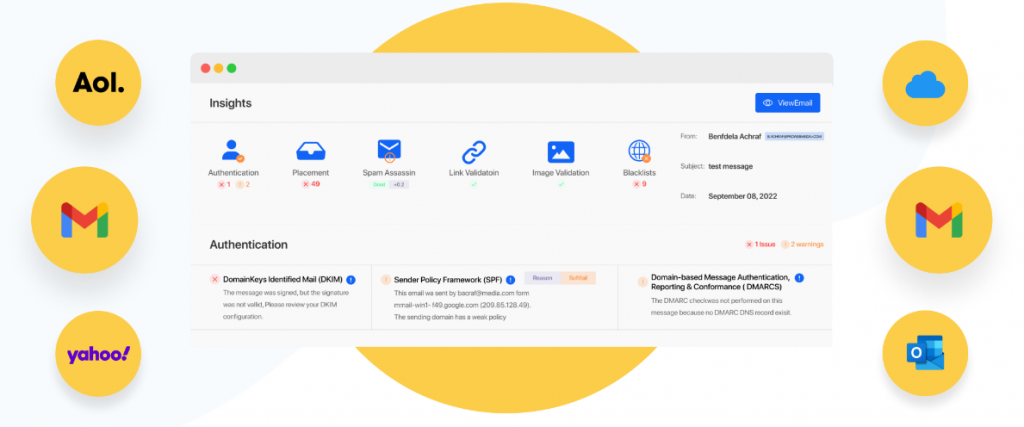 Source: Mailtester
The price starts at $19 monthly for 100 daily checks or $0.0038 per email check.
Glock Apps
A solid online email spam checker, Glock Apps is a one-click way to increase your email deliverability rate. Just send your email to the address generated on their website and get a comprehensive report in return.
Glock Apps includes three free tools:
Gappie

:

real-time

reports about your email domain, security, and deliverability, such as a surge of email traffic from your domain, a drop in your DMARC compliance rate, DKIM or SPF authentication failures, or changes or the SPF or DMARC records.

Domain checker

: protecting your domain from illegal use, including spoofing attacks and spam.

Inbox email tester

: detailed reports on where your emails land.

Source: Glock Apps
Glock Apps offers four price plans covering various email marketing needs: Uptime Monitor, DMARC Analytics, Inbox Insight, and Bundle, with the latter being the most comprehensive, starting from $59 per month for 3,600 spam tests.
Unspam
As its name suggests, Unspam offers comprehensive email spam checking on top of every other feature you might need to ensure the deliverability of your emails.
Blocklist monitoring

: instantly knowing when your domain or IP address is blocklisted, with problem-solving prompts.

Accessibility check

: Ensure your emails are visible to the recipients and in their inboxes.

Email preview

: giving the bird's eye view of your emails to ensure they catch attention.

Eye-tracking prediction heat map

: exploring where your email recipients direct their attention when reading your emails and how you can improve.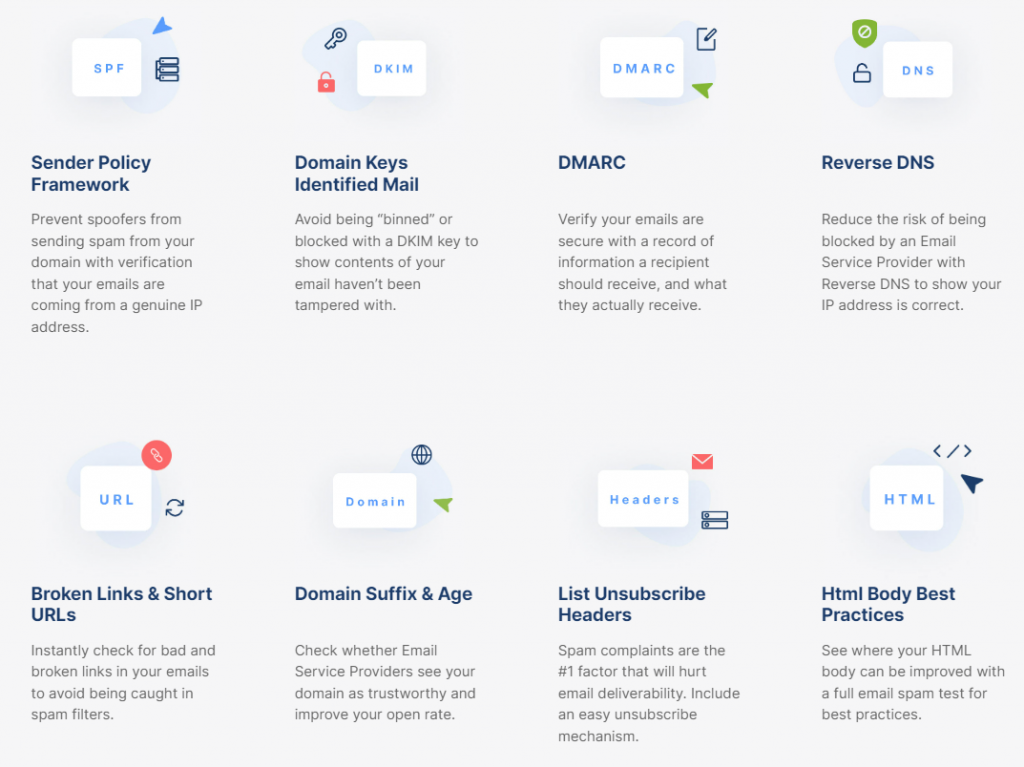 Source: Unspam
Likewise, Unspam checks your subject lines, HTML practices, broken links, email sender reputation, and many other details that potentially affect your deliverability rates, all for a modest $9 per month for 50 email tests, $19 per month for 200 tests, or $29 per month for 500 tests. Three free monthly tests are available for free.
Kickbox
From anti-spam to email encryption, Kickbox provides technologies for best email practices, including email validation, real-time verification API, blocklist monitoring, inbox placement, DMARC monitoring, and more for businesses of all scales.
Among other things, you can:
Identify fake and invalid

email addresses

, including fixing

email address

typos.

Eliminate or significantly reduce bounces.

 

Increase the efficiency of your email campaigns.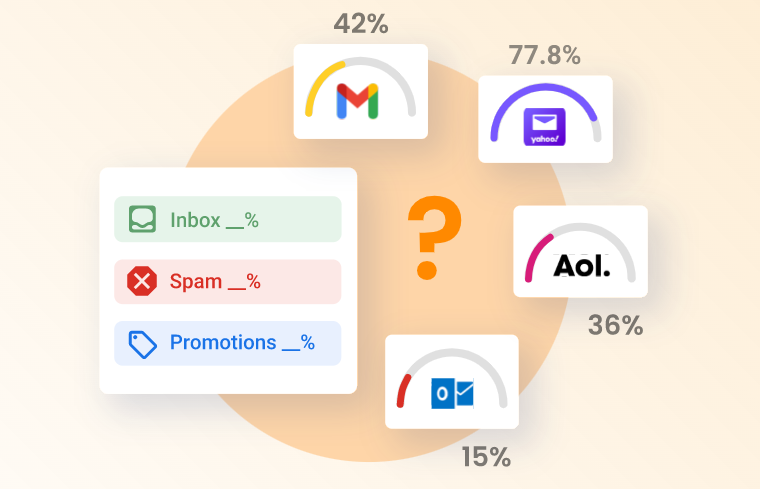 Source: Kickbox
You pay for what you need, starting from $5 for 500 verifications. For a quick start, read this implementation guide.
Validity Everest
Validity Everest is a subtle email management platform for delivering customized emails to the right people at the right time. Email authentication, placement insights, engagement analytics, reputation monitoring, content design, and list validation are just a few of over two dozen tools you'll get access to.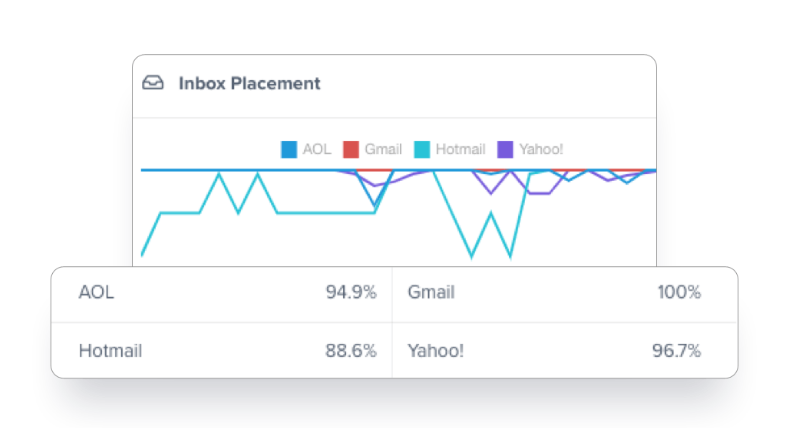 Source: Validity Everest
The subscription price starts at $20 per month for 5,000 emails.
Send Forensics
Send Forensics is a solid email deliverability platform that enables subtle email content analysis, email previews, test inbox placements, and DMARC monitoring, all within a visually appealing, easy-to-understand dashboard.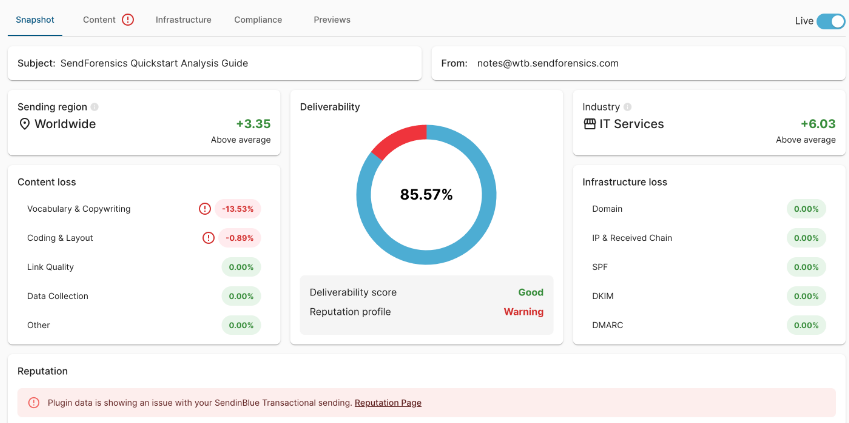 Source: Send Forensics
Apart from the deliverability features you might expect, the service offers a vocabulary and copywriting checker to beautify your content, so it doesn't look like a spam email.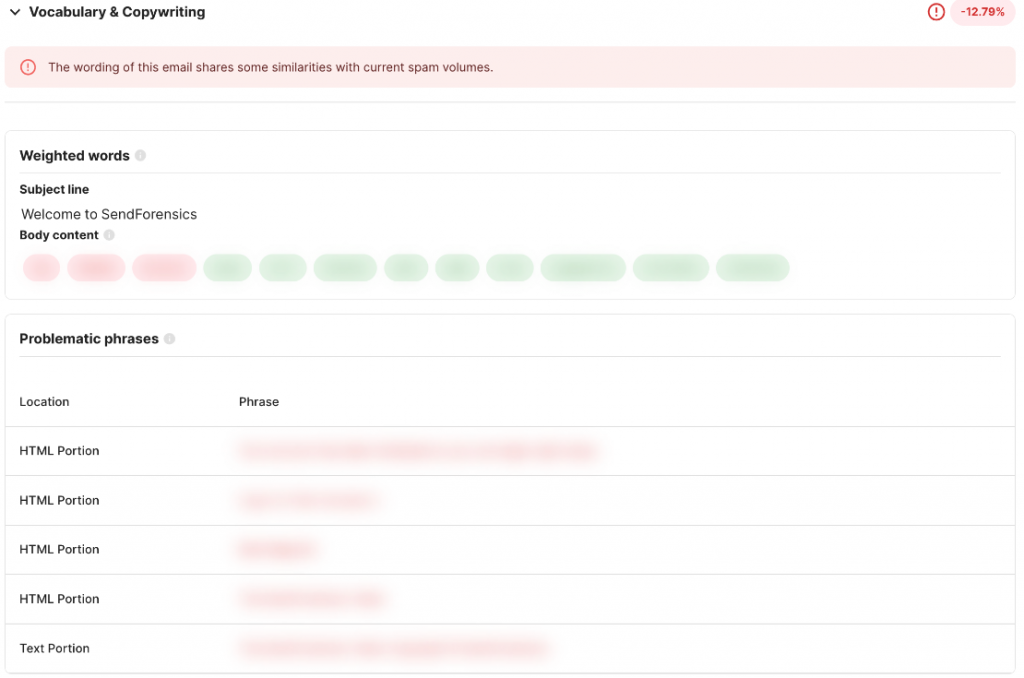 Source: Send Forensics
The monthly subscription is available in three packages – Brand ($49), Company ($79), and Agency ($199) – each one with a different number of sending domains, supported users, and DMAC records.
Inbox Ally
Inbox Ally is a dedicated email deliverability service that boosts email engagement via in-depth analytics. With Inbox Ally, more users will demonstrate meaningful engagement with your emails, such as scrolling down your emails, moving them from the promotion and spam folders, marking them as important, and clicking your links and replying.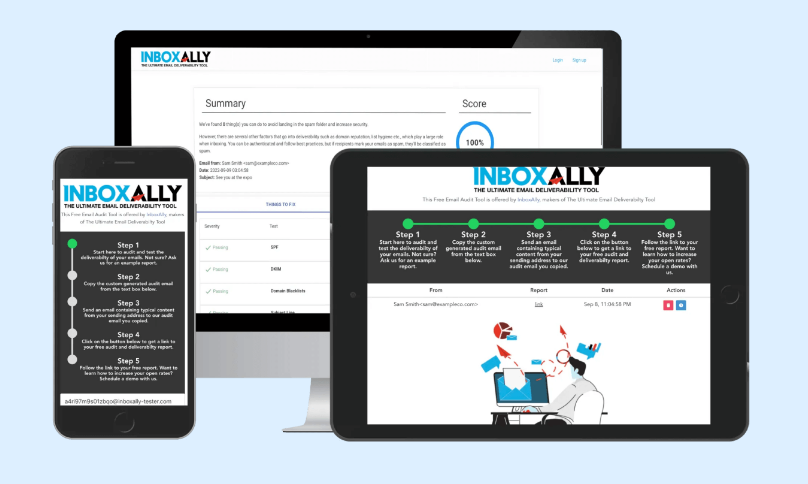 Source: Inbox Ally
Inbox Ally's custom engagement profiles – Ramp Up and Reputation Boost – improve your emails from the get-go. Likewise, you can customize your setting for maximum engagement or use a free spam checker to verify whether your emails land where intended.
The monthly subscription starts at $149 for 100 unique seed emails per day.
Sender Score
Besides checking your sender score, the eponymous platform offers a set of deliverability tools, namely:
Sender Score

: ensures a high

sender score

, preventing you from falling below 70, when the recipient's IPS will likely block your email.

Blocklist Lookups

: ensure you're not on the Return Path Blocklist (

read more

about RPBL).

List Quality Checks

: keep your

email list

clean to prevent bad contacts from sabotaging your email deliverability.

Deliverability Benchmarks

: ensure your deliverability is competitive in the current market.

Email Revenue Calculator

: calculates how much you can earn from a boost in inbox placement.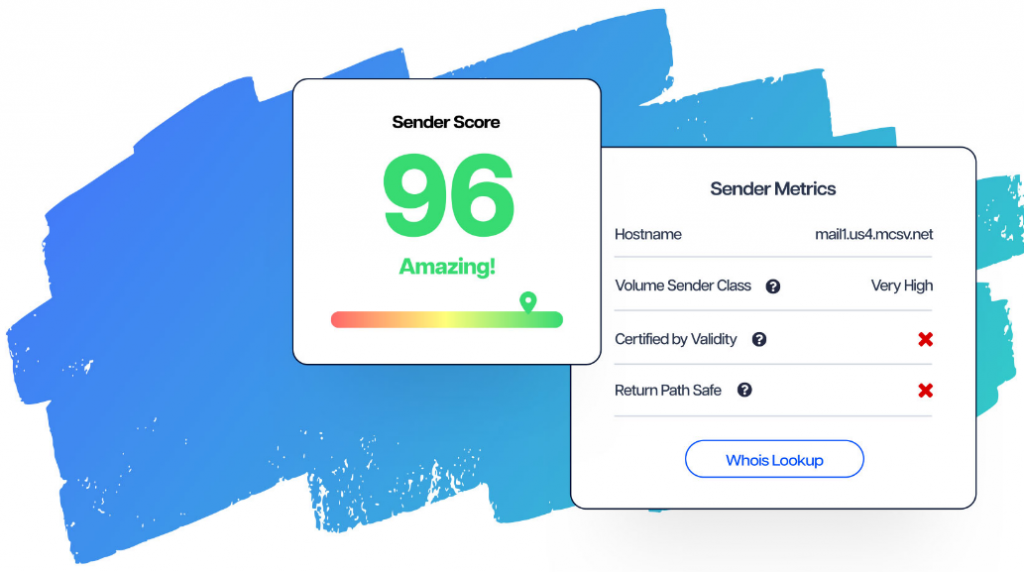 Source: Sender Score
Sender Score is one of the few free email deliverability tools out there.
Snov.io
With over 90 million emails verified annually, Snov.io is a business growth toolbox and CRM platform that, among many other things, provides a free email verifier.
The email verification toolkit with Snov.io may not be as big as with some other services, but it does help in cleaning your email list, decreasing your bounce rate, and removing duplicate emails to ensure the deliverability of up to 98%.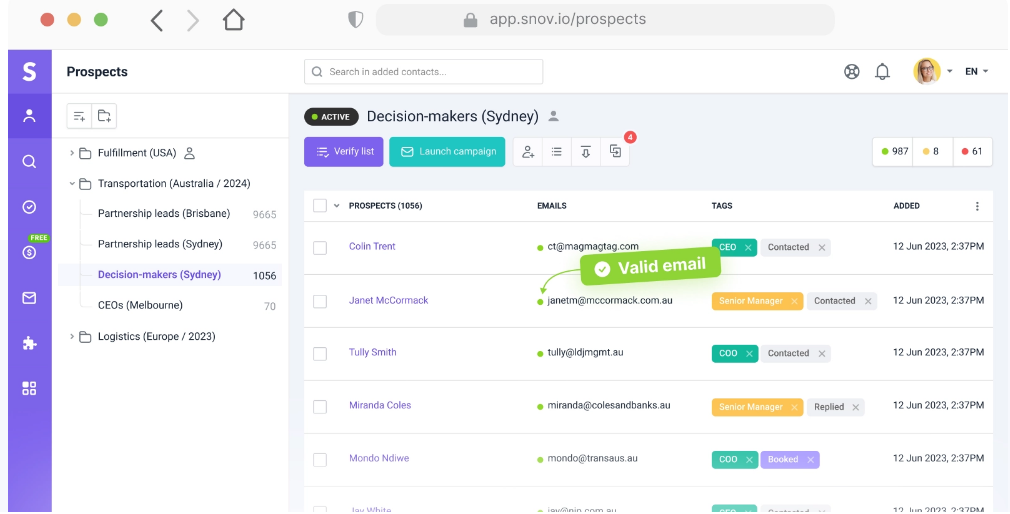 Source: Snov.io
The free trial version of the product includes 50 email verification credits or 100 free email verifications per month. The basic paid plan costs $30 monthly, including 1,000 credits, 5,000 email recipients, and one mailbox warm-up.
Litmus
One of the best online platforms for data-driven email campaigns, Litmus provides every imaginable email testing tool for composing personalized messages that inevitably hit the inbox. From campaign previews to QA tests, Litmus has it all and then some to create amazing emails.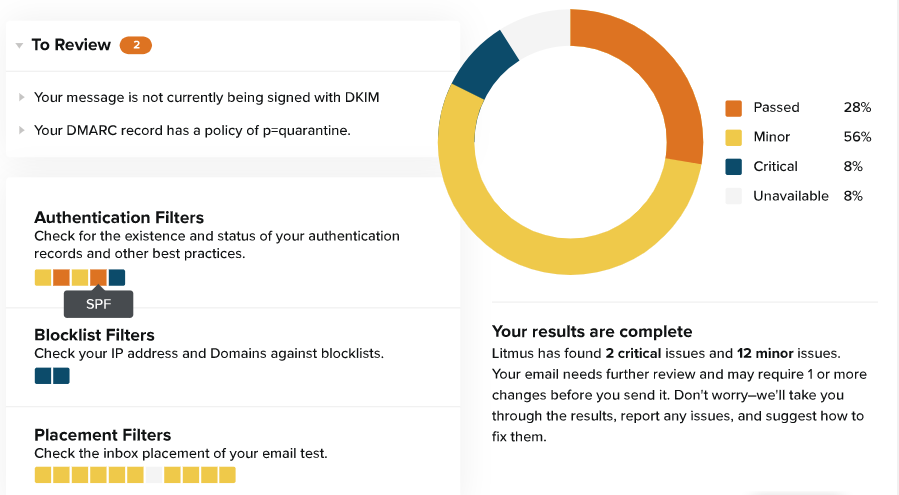 Source: Litmus
The subscription comes in two packages – Basic ($99 per month) and Plus ($199 per month) – or you can tailor your plan to your needs.
Folderly
All-in-one email deliverability platform, Folderly helps locate, solve, and prevent deliverability pitfalls. Besides real-time email deliverability testing, the platform offers domain health insights, DNS and email authentication monitoring, email content analysis, blocklist and spam filter monitoring, custom email templates, and more.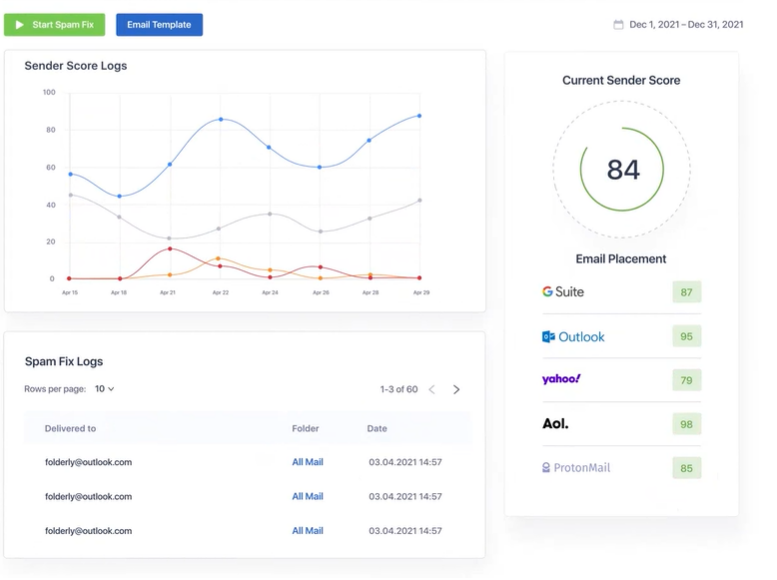 Source: Folderly
The subscription costs $200 per month, with several paid add-ons that you can add on top of it: Email Deliverability Test ($129 per month), Email Deliverability Audit (custom pricing), and Template Writing (custom pricing).
Sparkpost
One of the most trusted cloud email intelligence platforms, Sparkpost takes the guesswork out of email analytics by providing real-time insights on your campaigns. Over 35 individual metrics will dissect your deliverability and engagement to maximize the potential of your email outreach while preventing bounces and blockage.

Source: Sparkpost
The price starts at $20 per month for 50,000 emails.
Other Tools
There are many more reliable email deliverability tools than those in this article, including smaller and full-scale solutions. 
Here are some other top email deliverability tools you will likely find useful:
Spamcheck

: free JSON API spam checker assigning a score to your emails from 0 to 5, with 0 being the best score.

Mxtoolbox

: a visually unappealing yet very effective online tool that covers almost every existing type of email checking.

Email Subject Line Grader

: a free tool for polishing the subject line.
Naturally, every business will have different requirements to email deliverability tools, as you must be facing a unique goal within a unique campaign aimed at a unique audience. Choose what works best for you, whether an all-encompassing email marketing software suite or a niche tool with no bells and whistles.
Expand Your Email and Omnichannel Marketing Knowledge at MailCon
The world's largest email and omnichannel marketing conference is right around the corner. An all-star lineup of speakers is gathering at MailCon on 17th April 2023 for a three-day knowledge-sharing sprint you can't miss.
Want to be a part of it all? Check out our event agenda, get to know our Speakers, and grab your MailCon 2023 tickets now.