From setting goals to distributing responsibilities to measuring the results of your email outreach, a well-thought-out email marketing calendar can greatly impact your business, keeping your campaigns on track and shared across departments.
An

email marketing calendar

will help you deliver the right message to the right people at the right time with full accountability and minimum resources spent on the task.
Don't have one? Then read this article to the end and get your first email marketing calendar template for free (or just scroll down for free email marketing calendar templates).
With no further ado, let's dig into the nitty-gritty of email marketing calendars.
What is an Email Marketing Calendar?
An email marketing calendar is an overarching document that includes all essential details about your email marketing campaigns, from preparation to execution to post-campaign analytics.
The ultimate purpose of an

email marketing calendar

is to provide clarity into your

email marketing campaigns

, keeping everyone involved on the same page throughout the process.
Having everything laid out in one place will allow you to focus on higher-level strategies like brainstorming new campaigns and increasing engagement with existing customers.
How to Make an Email Marketing Calendar?
You can create an email marketing calendar in three ways:
Using a

marketing calendar

template

(for this article, we've used HubSpot's free

email marketing calendar

available on Hubspot after registration).

Using proprietary email marketing software.

Using spreadsheets on platforms like

Google Sheets
To choose the best email marketing calendar, consider whether a particular calendar fully covers your needs, is easy to use and edit, and is visually appealing. 
Look at the email marketing calendar below – it's visually appealing, can expand to include every metrics you need, and can be shared across departments.

Source: HubSpot
7 Steps to Effectively Use Your Email Marketing Calendar
1. Strategize Your Email Content Well Ahead
A well-thought-out email marketing plan – all put in a neat email marketing calendar – will help you hit the right audience with the right message at the right time throughout the year while covering topics that resonate with your audience.

Source: HubSpot
From welcome to lead nurturing to promotional to retention emails, your email marketing calendar will give you a bird's-eye view of your endeavors and insights on every message, bringing your sales and marketing teams on the same page. Knowing what, how many, and when to launch your emails will put you in the driver's seat of your email marketing, growing your confidence and saving tons of time down the road.
2. Choose the Right Time to Launch Your Campaigns
The right timing is key to putting your emails in the spotlight. However, there's no universally accepted best timing for sending marketing emails, as different research shows different data. 
For example, Brevo's research claims 10 am and 3 pm to 4 pm be the most effective for sending promotional emails, whereas Mailerlite believes 11 am to 12 am on Mondays and Thursdays to be the time of opportunity.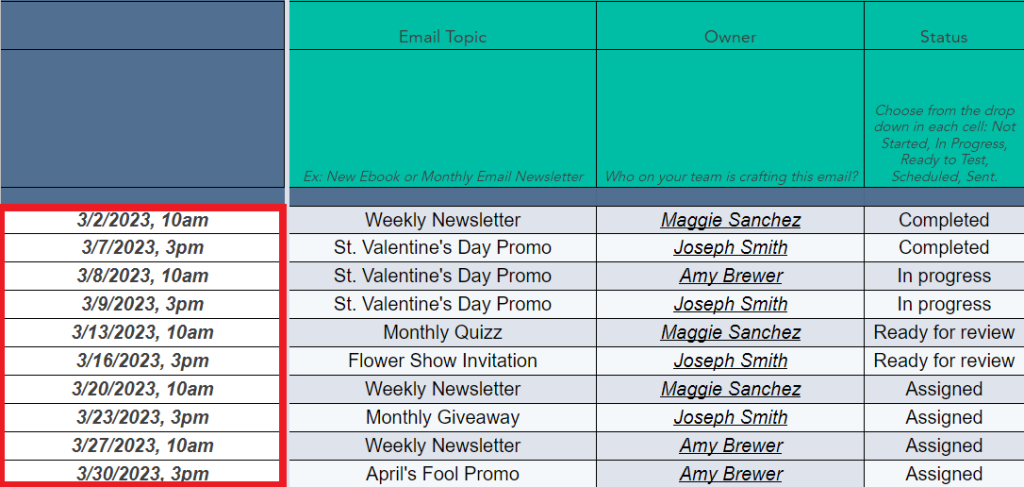 Source: HubSpot
You must independently research your best email timing (based on your product, audience, and technical capabilities) to fill out your email marketing calendar with an effective action plan.
3. Choose the Best Author for a Particular Content
Having a well-oiled marketing team doesn't mean everyone is equally good at writing all types of emails. Whether a formal, semi-formal, or informal style is required, an email marketing campaign calendar will help you assign the right task to the right writer or team.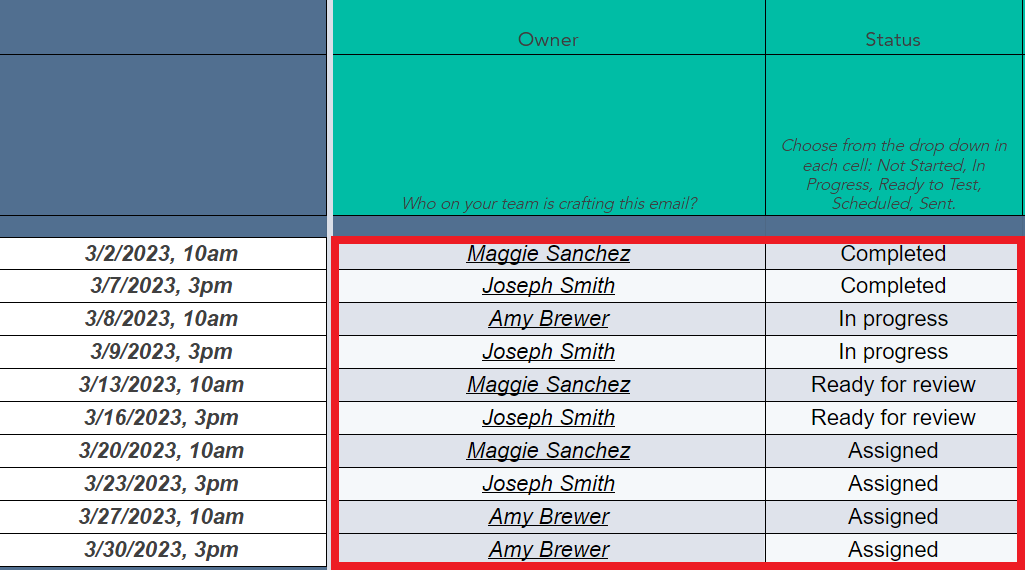 Source: HubSpot
Likewise, having the statuses of your emails, you can timely identify tasks and writers lagging behind and needing a boost.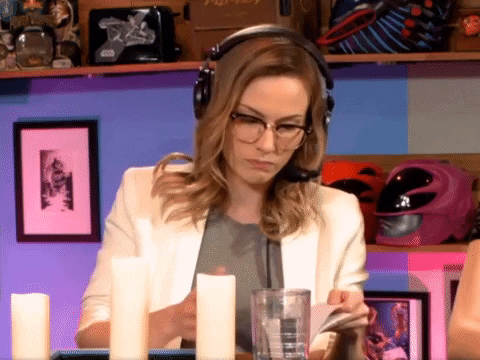 4. Craft a Compelling Subject Line to Get More Opens
Crafting a successful subject line is a matter of thoughtful consideration and specific data-driven rules, with your email marketing calendar allowing your team members to put their heads together to create striking subject lines.
Here are some time-tested rules for creating subject lines:
Keep your subject lines above 41 characters for iPhone and 70 characters for Gmail.

Pay equal attention to the subject and the pre-header, as both are equally important for conveying your message.

Use the words that have proven to be most effective for a subject line: engaging, secret, survey, update, giveaway, etc.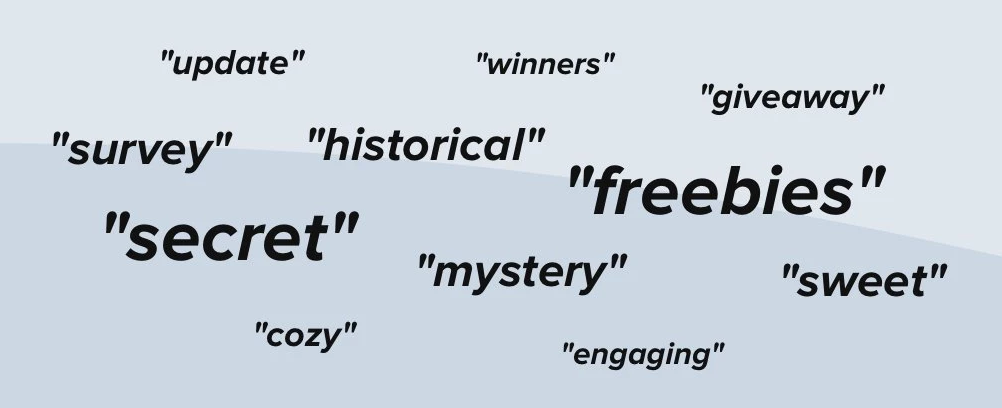 Source: Mailerlite
5. Include and Exclude Recipients to Target Your Emails Most Effectively
You can't send all your emails to all your subscribers all the time (duh), as it would quickly escalate into customers leaving you for good. Segmented campaigns draw up to 760% more revenue through higher customer satisfaction and proper appeal to their interests.
In your email calendar, you may have Send List and Suppression List, the fields to customize your target audience for every email campaign. Segmenting your subscribers into several lists and then including or excluding these lists within a particular campaign will allow you to send customized emails to the right subscribers.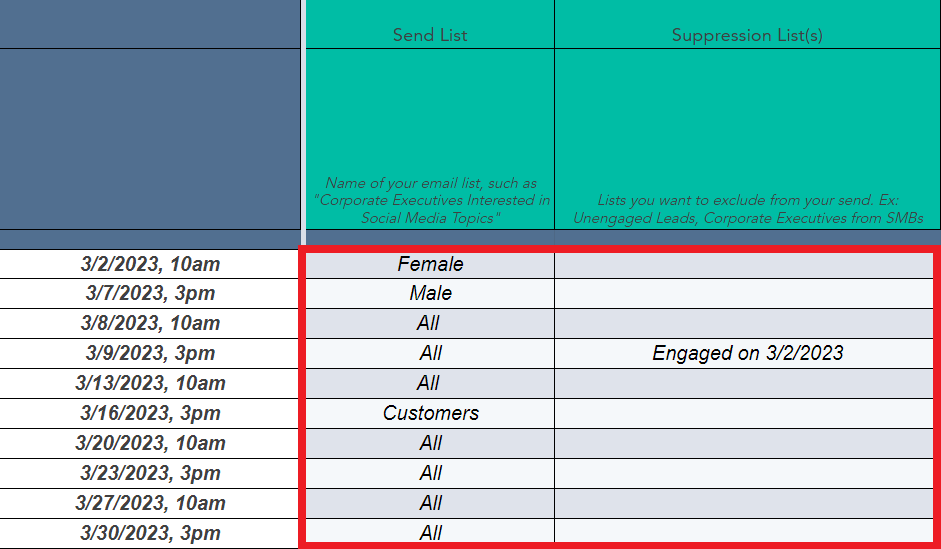 Source: HubSpot
Email communication is quite intimate, with customers setting high standards for the brand they follow. Around 89% of consumers are loyal to brands that share their values, while 88% will only engage with companies that go the extra mile to satisfy customers' expectations.
6. Track Your Email Marketing Performance to Identify Successful and Failed Campaigns
Scheduling and launching your digital marketing campaigns is only half the battle – the other half is tracking your performance. Tracking key email marketing metrics like delivery rate, open rate, click-through rate, bounce rate, unsubscribes, conversions, and email list growth will give you actionable insight into your marketing strategy and audiences.

Source: HubSpot
Keeping it all together in your email marketing calendar will allow you to identify potential issues early on, such as if your emails land in the spam folder or if the unsubscribe rate is rising. Likewise, you will improve your budget allocation, spending more on the most profitable campaigns and eliminating unprofitable ones.
7. Conduct A/B Tests to Devise the Best Email Marketing Strategy
A/B email marketing tests efficiently improve your emails one step at a time. For example, if you have two equally good subject lines, you can conduct an A/B test to see which appeals to your target audience. Your email marketing calendar will help you keep it together and share it across departments.

Source: HubSpot
Last but not least, don't forget to timely reflect the changes in your email marketing strategies in the calendar. Remember, the calendar is no more than your action plan that is subject to change as your marketing campaigns unroll. Don't blindly follow it – instead, be flexible to reflect the required changes in your calendar. 
Free Email Marketing Calendar Templates
Google Sheets
Google Sheets is a simple and free tool to help you plan and organize your email marketing calendar (and other calendars). It is easy to use, shareable with team members, and accessible from Google Workspace (formerly G Suite) plans.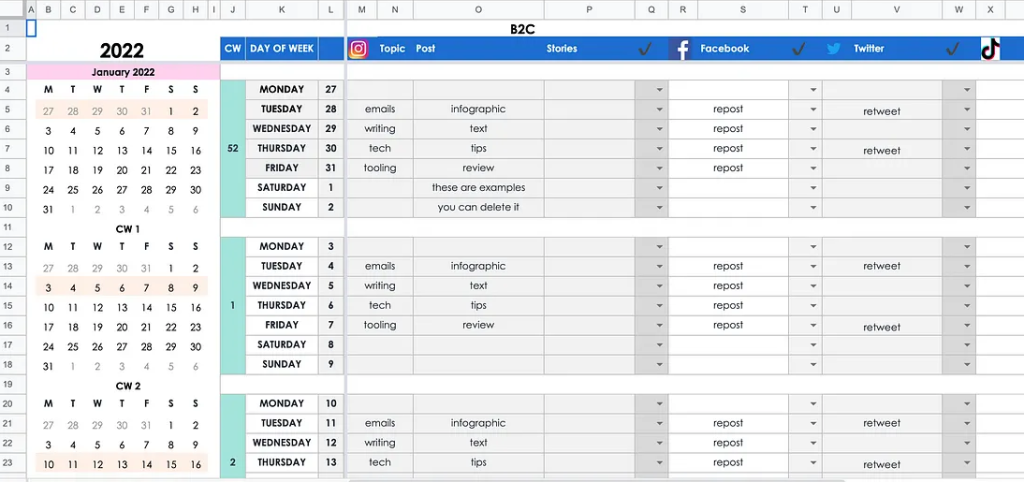 Source: Gracia Kleijnen
With built-in formulas, conditional formatting, and Excel compatibility, you can use various add-ons to customize your calendar and save time.
Moosend
One of the best email marketing and automation platforms, Moosend provides a wide range of features, such as drag-and-drop campaign builders, advanced segmentation tools, real-time analytics dashboards, A/B split testing capabilities, integrations with other popular applications and services (Zapier, Salesforce, etc.), and more.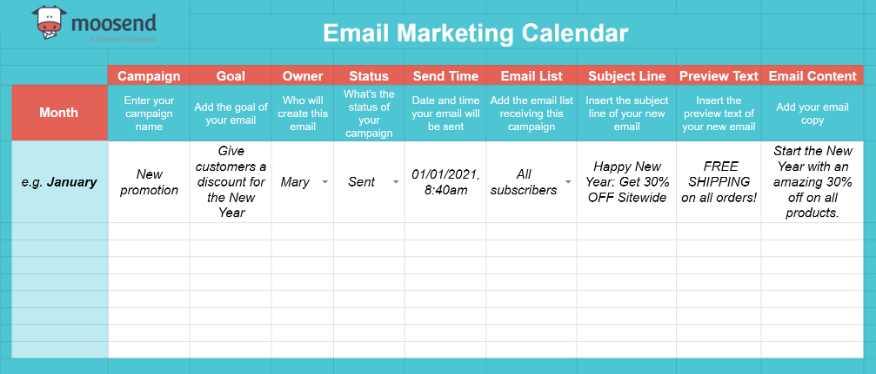 Source: Moosend
Likewise, Moosend provides a free email marketing calendar template available through this link. Feel free to download the template: no strings attached; you can edit it as you want.
Trello
An online task management and collaboration tool, Trello allows you to organize tasks, projects, and ideas in an effective and visually appealing way through lists that can be populated with cards containing details about a task or project. You can integrate Trello with Google Calendar and similar popular services.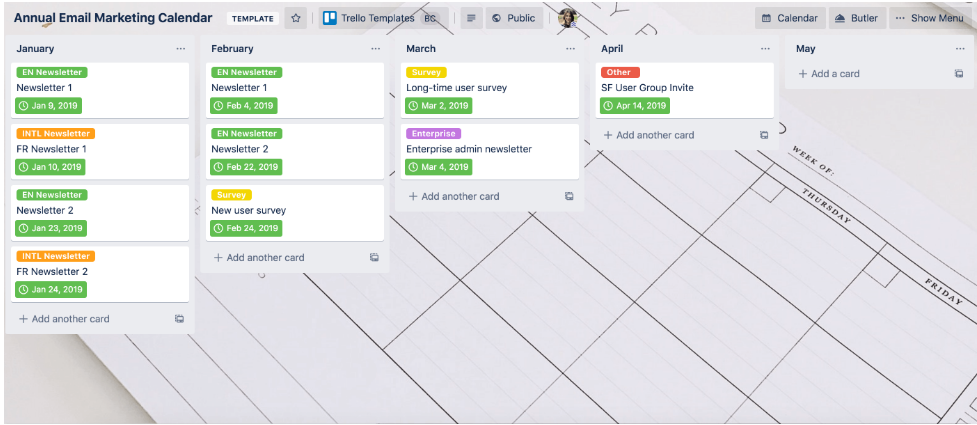 Source: Trello
Download Trello's free email marketing calendar here.