We've all heard the statistic: acquiring new customers costs eight times more than keeping existing customers engaged.
It's old news! Every marketer knows the stat, but how should we act on it?
There are plenty of ways for businesses to retain customers, but one of the most effective methods is through effective email marketing via post-purchase emails.
Not only can these emails incentivize repeat purchases, but they also create an amazing customer experience and thus can increase brand loyalty and affinity.
What Is The Post-Purchase Email Flow?
You need to know how to crawl before walking, so let's open this lesson with a quick review of the concept. What is the post-purchase flow?
These emails are sent after the customer purchases a product from your website. In general, we split these emails into two categories:
Transactional Emails: these emails are sent automatically through your e-commerce platform, such as Shopify. Most of the emails sent here are purely for electronic record keeping and don't include as much marketing information. In fact, you aren't legally allowed to include marketing information in these emails, e.g., adding a discount to the order confirmation email.
Marketing Emails: these emails are sent via your email service provider (ESP), such as Klaviyo or Mailchimp. They are focused on delivering marketing communications.
Transactional emails include emails such as the:
Order Confirmation: this email confirms your customer's order and includes all relevant transaction information. It should also set expectations on when to anticipate the item to be shipped and who to contact in case of an issue.Imagine this: you just ordered something from a stranger on the internet. You're questioning whether you made the right decision. Anxiously you check your inbox to see whether you received a confirmation of your order. You receive the email, and it's all wonky. Your trust in the company immediately falls, and you wonder whether you made the right decision. In an even worse scenario, you don't even get an email.
When people purchase, they're experiencing uncertainty about whether they made the right decision. The confirmation email is your first opportunity to validate that they did.
Order Cancellation: this email is fairly similar to the above but just confirms that the order is now canceled.
Shipping Notification: one of the favorites amongst customers, the shipping notification lets customers know that their product is on the way. We want to ensure that we reduce uncertainty as much as possible (more on this later), and by keeping customers updated about each step of the process, we can do this.
Order Delivery: this email lets customers know their order has been delivered. On the one hand, this creates excitement. On the other hand, we want to ensure they can grab their package before anyone else can. Last but not least, this email should also include your contact information and any relevant social media links. This information is essential for customer retention, as any defective orders can easily be remedied.
There are many more transactional emails, but these are the basics that every brand should have. Now, this is where many brands end their post-purchase email campaigns.
After all, the transaction is finished. The customer has received their item, and you've secured your profit. That's all that really needs to be said, right?
Nope!
You're leaving plenty of money on the table if you end here.
Let me describe this via one of my favorite metaphors: Dating.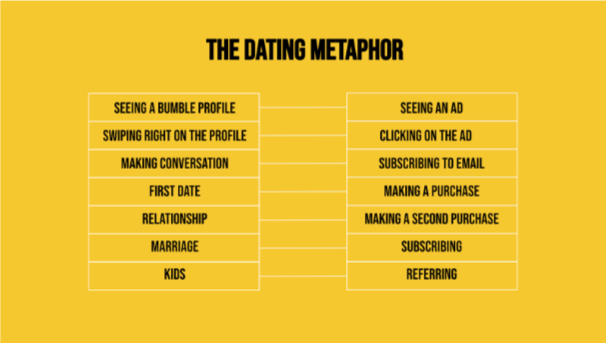 The marketing lifecycle can be a lot like the dating world. When you see an ad, it's similar to seeing a profile on a dating app like Bumble; if you're interested, you swipe right, or in this case, click the ad.
When you subscribe to email, that could be seen as the equivalent of making a conversation with the person you just matched with. The first date; that's the purchase.
Now, where would we be if we ended the dating relationship after the first date? That would be a pretty bad relationship. That's why we don't want to end the purchase cycle after the first purchase.
Part of a winning brand is creating a successful customer experience that makes people remember you. This includes not just delivering an amazing product but also amazing service. People want to do business with companies that take the time to treat them well, which translates into profit. The remaining post-purchase emails are a great way to treat your customers well.
So, let's dive into the second type of email, the marketing email.
1. The "Thank You For Your Purchase" Email
Generally, this phase of the post-purchase journey is included in the order confirmation message. There's nothing wrong with this. In fact, it's fairly standard to see brands mixing a gracious statement into their order confirmation emails.
"Thank you" emails are a fantastic way to add a personal touch to your email marketing. Ultimately, this attention to personalized details translates into a higher customer retention rate, and you can expect to see more loyal customers in the future.
Sometimes, a brand may opt to create unique "thank you" campaigns, which are sent out separately. This approach won't work for everyone, but it's worth considering if you're planning to add more depth to your post-purchase email campaign.
It can either be a heartfelt personal thank you message, a reminder of the brand's mission and the purchasers' role in that, and/or a quick recap of what will happen next.
With clever segmentation, you can even make these emails seem more personal. For example, a first purchase should prompt a different email than a second or third purchase.
2. Engage First Purchase Buyers With a "How-To" Email
If you're selling a particularly unique product, you may want to include instructions and frequently asked questions in your post-purchase email flow. These emails will help you retain customers and may lead to repeat customers.
Informational tutorial emails are a great way to reduce customer complaints by giving customers the information they need before the product arrives. This helps you keep your customer feedback lines open, and your customer service team will be left alone to handle the more pressing matters.
Now, this is one of those categories where having some post-purchase email examples is handy.
In this email, which was sent by the off-road mapping company onX, new customers were sent information on using the app. Aside from being an informative way to initiate a business relationship, this innovative approach to post-purchase messaging can help other customers learn about the platform.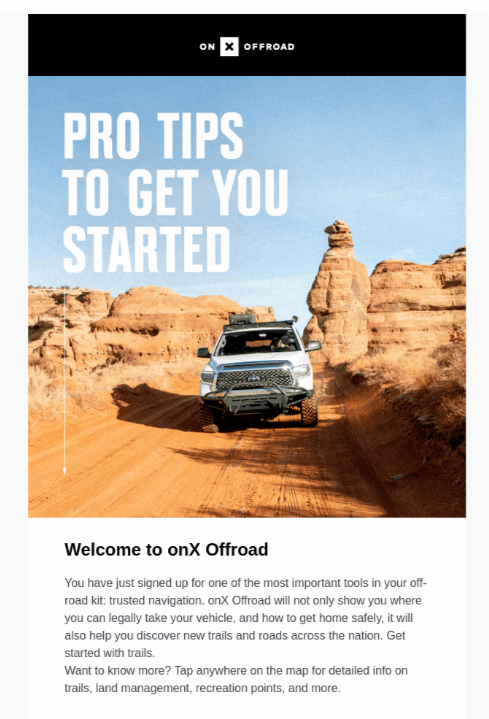 3. The Purchase Reminder
This email should be sent to remind customers that it's time to purchase again. This is especially relevant for products that need replenishment, e.g., beauty, wellness, food & beverage products.
What's crucial is that you make your purchase reminders, not just transactional. Example: "Hey, come back and buy again."
But add value beyond that. For example, say you are selling a supplement product, and you are looking to get someone to replenish it. This might be a good opportunity to remind people that it could take months to see the results of taking supplements.
4. Cross-Sell or Upsell Buyers With Recommendation Emails
One of the best ways to generate more sales and increase customer lifetime value is to invest in some upselling emails.
These emails are great to send, especially further down the road. The more often someone purchases, the more you can consider them loyalists. This means they are more likely to subscribe or try other products from your lineup.
Once someone has purchased once, it's a good opportunity to feature your other products or, if they have purchased more than once even, to get them to subscribe.
Cross-sell emails focus on getting customers to experiment with new products, especially ones that are more expensive than what they initially purchased. For example, a pet food company may recommend that a customer tries a more expensive formula after buying its basic kibble.
In general, a cross-sell email is a good tool. However, it's a bit of a double-edged sword. You want to ensure your cross-sell campaigns are well refined before sending them. Trying to send out irrelevant recommendations is the perfect way to push customers away. But intelligent cross-sell emails can ensure your average order value increases. Example: A pet food company selling kibble could introduce its treats to existing customers.
5. Loyalty Program Emails Boost Your Customer Retention Rate
If your business suffers from high customer acquisition costs, it may be time to consider implementing a loyalty program. Already have one? Then start promoting it!
Rewards program emails are meant to keep your customers engaged, and these post-purchase campaigns are a fantastic way to encourage repeat customers. These emails build repeat purchase rates, making them an invaluable digital marketing asset.
Here's a great example of a loyalty-centric campaign from Marriott International: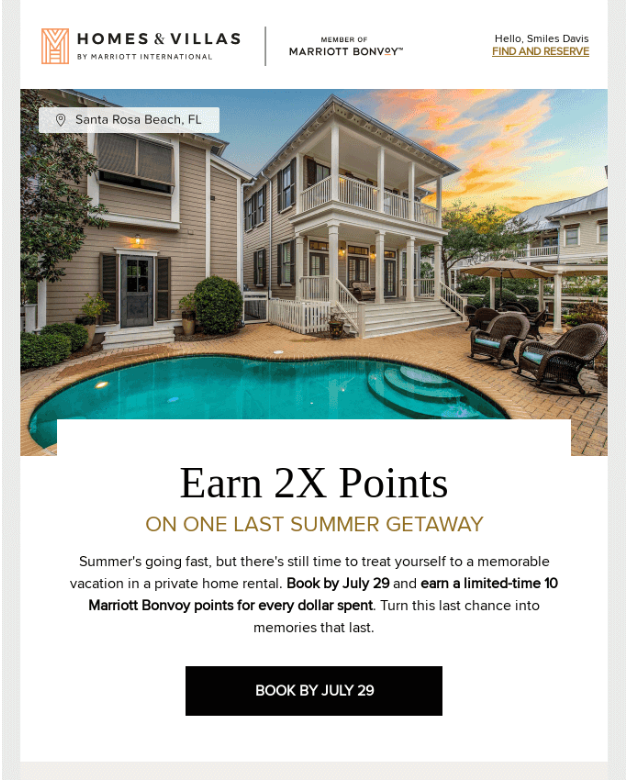 Check out that amazing cross-sell! This excellent customer loyalty email gently encourages customers to check out the company's many other offerings.
In addition, you can incentivize people's purchases by guaranteeing they will reach a new status of perks once they complete several purchases.
Example: "Congratulations on your second purchase. Remember, once you purchase three times, you get automatic entries into all our giveaways."
6. Review Request Emails
Are you looking for more customer feedback?
Review request email campaigns are a great way to send feedback requests. With the right phrases and careful legal provisions, you can get customers to leave reviews on your products and services. This is a great way to gather user-generated content that can easily be bundled with your customer loyalty programs.
Assuming you took the proper steps to make sure any content generated by these campaigns can be used publicly, you can use review request emails to boost your business.
If you want an excellent post-purchase email example, check out this awesome sample from Netflix.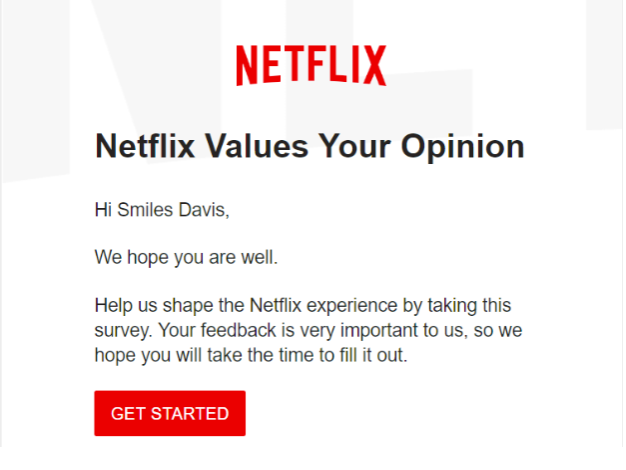 This message doesn't beat around the bush. It's short, upfront, and asks users for some valuable feedback. That's all you need with these campaigns, so don't try to get too fancy!
These are some of the emails you should add to your post-purchase flow to create more value than just re-selling products.
Of course, there are a plethora of other things you could do. For example, you can add a community-focused email showcasing your customers to build a brand identity, send win-back emails to get lapsed customers to return, and so much more.
But it's better to walk before you run. So, get started with the basics, gather data, and then roll out the rest.
Stay tuned and connected with MailCon to receive more insightful content, current industry trends, and future event announcements. Follow The Email Marketers Blog for more email strategies and updates.