Google's recent announcement that postponed phasing out third-party cookies in Google Chrome until the second half of 2024 would have been met with enthusiasm by email marketers if it had not been for the ambiguity it created.
With this ban, Google plans to gradually transition from third-party cookies to the Privacy Sandbox rather than abruptly replacing them with something new.
For us as marketers and advertisers, this means more time before adjusting our advertising strategies to target Chrome users.
While we can still rely on third-party data when customizing email letters, we will soon be left in the dark, with no demographics and behavioral insights about customers and prospects roaming through our websites. 
So what will change for us as email marketers upon the euthanization of 3P cookies? How will we address these changes? Without further ado, let's dig into it.
The Value of Third-Party Cookies for Email Marketers and Customers
It's no exaggeration that the demise of third-party cookies —  users' demographics and previous searches — is one of the most significant shifts in the history of digital marketing and advertising. While customers will still be able to allow companies to collect their cookies, there's no doubt that the lion's share of them, unaware of how their data can be used, will opt out of it.
Most of us will be left with much less third-party cookie data, if any, while consumers will likely become the primary beneficiaries of the change. Not only will their data no longer be collected and processed, but it also won't be traded or used for malign purposes.
At the same time, over half the marketers believe that the change will do more harm than good: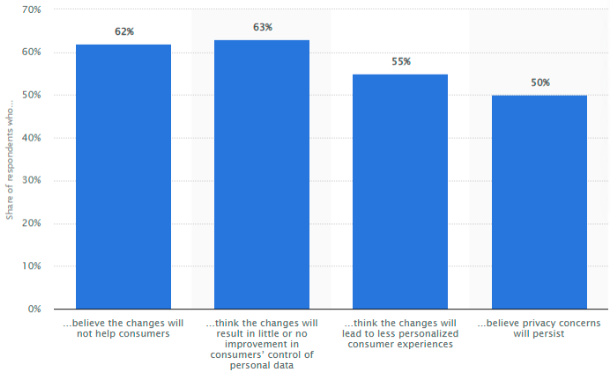 Source: Statista
This perspective, however, may be biased, as we will have to overcome immense challenges in developing new sales strategies, reconstructing sales funnels, and dealing with decreased revenues. Not for nothing was cookie deprecation declared the top digital media challenge of 2021. 
Customizing Email Campaigns with No Third-Party Cookies
The great cookie-less revolution is underway, but you still have plenty of time to discover new ways to learn about your customers. For starters, consider these three ways to optimize your data collection:
Use First-party Cookies
First-party cookies are the information available exclusively to your website team — clicks, page visits, geographical data, items in the shopping cart, language settings, and other personal identifiers — while being hidden from other domains, advertising partners, or any third parties.
Now, even if you are already tracking first-party cookies, chances are you need to utilize this tool to the fullest. To get more personal data from users, provide them with the content they seek in exchange for the target action (subscription, filling out the form, making a purchase, etc.). At the same time — and this is crucial — matching the values of the two or (even better) making what you provide look more valuable than what you ask.
Improve the Quality of Customer Research
You may not be able to get as much third-party customer data as before, but you can improve by deepening your customer research and collecting more data from other channels.
Be omnichannel

: use the data from social media and other sources in your emails to create a coherent brand image in the eyes of your customers, making it easier for them to share more personal data.

Provide engaging content:

quizzes, polls, surveys, etc. – to gather more details.

Interview your customers

: first-time users, experienced users, brand advocates, etc.
Go Interactive
Interactive emails enable recipients to take action directly from the inbox while providing relevant – dynamically updated – content at every open. Besides increasing conversion, interactive emails will make your brand look up-to-date and trustworthy.
Did you miss our recent webinar with Matt Harris as he discussed how Google AMP technology helps email marketers remain relevant through interactive emails? Read a recap here.
Learn Email Marketing from the Best at MailCon 2023 in Las Vegas
Home to world-class email marketing events, MailCon is returning to Las Vegas from April 17th to 19th for its largest email and omnichannel marketing event to date. Book your tickets to join the top minds in the industry at the Caesars Forum and learn top trends and insights shaping the industry today. 
Stay tuned and connected for future announcements and details on MailCon's upcoming events and the top trends in email marketing today.