Elevating Your Business Email
Sign-off
s Beyond "Best" and "Thanks"
Traditional emails have transitioned well into modern life, with the total number of email users expected to grow to 4.73 billion by 2026. But this doesn't mean all emails are equally compelling, including B2B and B2C emails.
While the subject line and the beginning of the message are always in the spotlight, the email endings, or email sign-offs, are frequently overlooked. Meanwhile, an email closing is just as important as a strong opening, especially when you want to leave a good aftertaste. 
A proper sign-off can motivate customers to take action or speed up the partnership. Ultimately, well-written sign-offs will help you grow your email list sustainably without fallbacks.
Below is an exhaustive guide on email ending and how to sign off an email.
Do You Really Need A Juicy Email Ending?
On top of a logical conclusion to a conversation, a well-written email ending can serve more goals, including:
Providing additional information

Enhancing brand recognition

Attracting followers to corporate accounts

Creating a positive impression
More on these below.
Providing additional contact information
In a sign-off, you can include the following:
Phone number

Email address

Messengers, etc.
This is necessary so that businesses or customers can contact you through any convenient means. For example, if you provide a toll-free number, you increase the chances of receiving feedback, positively impacting the conversion rate of your communications.
2. Enhancing brand recognition
Ending emails often incorporate the company's name, logo, or elements of its corporate identity. This aims to enhance brand recognition – to remind customers of your presence and maintain your brand image.
3. Attracting followers to corporate accounts
Modern businesses are expected to be on social media platforms (Facebook, LinkedIn, etc.). Email is one of the most handy ways to attract followers to these pages. Adding social media buttons to your email sign-off is a surefire way to grow your social media following.
4. Creating a positive impression
Through a sign-off, you can improve their impression of your business. The sign-off's tone and how you address the recipient can set the tone for a formal or informal conversation.
Types of Email Endings
The format and content of email endings may vary depending on whether it's B2B, B2C, or personal email.
Professional

. This is the most common type of

closing for emails

. It includes the name, job title, contact information, and often a photograph.

Source: Wise Stamp
Corporate

. These are widely used by stores, real estate agencies, legal firms, educational centers, etc., especially when communication is on behalf of a team rather than an individual.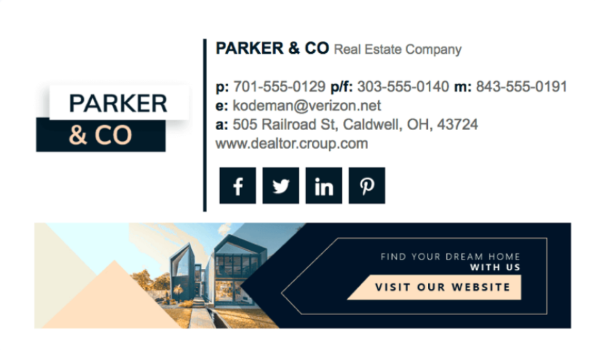 Source: Newoldstamp
Creative

. Such an

email ending

makes messages more memorable. However, it's important to remember that overly creative or unique email sign-offs can distract from the email's main message. Thus, striking a balance between originality and professionalism is crucial.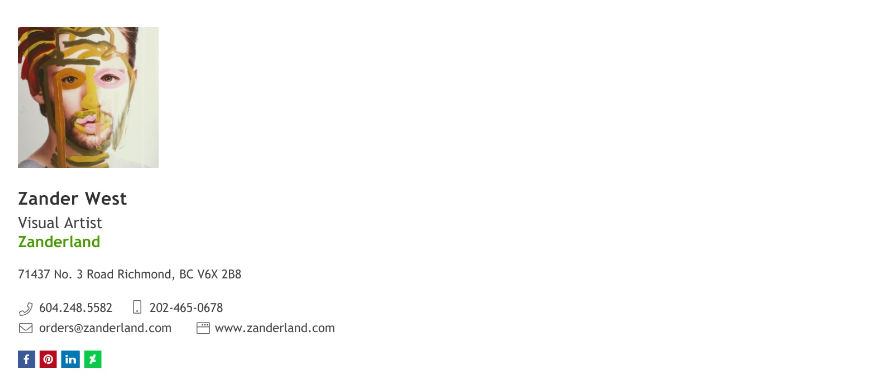 Source: Wise Stamp
Concise

. These email endings typically contain only essential sender information, emphasizing direct and efficient communication. They are most common in business correspondence.

Source: Wise Stamp
Funny sign-offs.

These are original and humorous

email closings

that give a light-hearted tone to the message. They are often used in informal contexts or when communicating with friends and colleagues rather than serious business cases. In more formal situations, caution is advised when using

fun sign-offs

.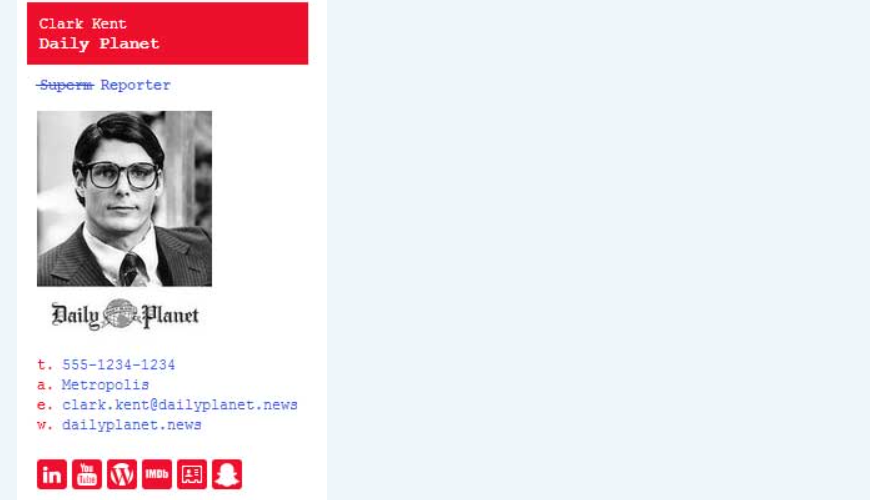 Source: Email Signature Rescue
Tips on
How to End an Email Professionally
It's important to maintain a professional and clear tone when it comes to closing email salutations. Here are a few recommendations to help you conclude your email:
Use well-coordinated colors

. Adding a touch of color to your email endings is a good idea as it adds personality and sets it apart from other emails. However, avoid using overly bright, flashy, or faded colors.

Choose a pleasant design

. A well-designed email ending presents your information in the most readable way. Maintain a certain hierarchy: start with your name and then list your contacts in order of importance.

Avoid using lists and animations

. Don't turn your

unique email sign-off

into an MS Word document; lists in it would look out of place. As for animations, they often display incorrectly and add unnecessary weight to your email.

Use separators.

It's better not to overload

email closing salutations

with a large amount of text. But if you want to differentiate information and make the text more readable, consider using separators, such as a vertical bar.

Don't forget about mobile compatibility

. According to

Oberlo

, in 2023, the number of smartphone users worldwide is estimated to be 5.25 billion people. Ensure that your text is large enough to be easily readable on a small screen and that links and icons are easy to tap with a finger.
Impressive Alternatives to 'Best' and 'Thanks' 
"Best" and "Thanks" are among the most popular email closings, but nowhere near the most effective ones. Since business communication and personal correspondence trends are constantly changing, such email endings can become somewhat overused, calling for more effective substitutions.
The
Best Ways to Sign-Off a Business Email
in 2023
Formal Sign-Offs
Less Formal Sign-Offs
The Least Formal Sign-Offs

Best Regards

Kind Regards

Respectfully

With Appreciation

In Appreciation

With Gratitude

With Respect

With Regards to You

Sending My Regards

Warm Regards

Sincerely

Cordially

Many Thanks

Much Appreciated

Gratefully

Thank You So Much

With Highest Regards

With Deep Appreciation

Wishing You Well

With Great Esteem

With Kind Acknowledgement

Yours Truly

Sending You My Thanks

With Warmest Appreciation

With Heartful Thanks

With Sincere Thanks

With Geniune Thanks
Leave a Sweet Aftertaste with Your Email Sign-Off
Letter sign-offs are a crucial element that builds trust in your brand, simplifies interactions with clients, and even promotes products and services. A well-crafted sign-off can take on various functions, depending on the context and tone: 
Express individuality

Capture attention

Enhance the effect of gratitude

Boost brand recognition
Join the MailCon community to gain deeper insights into various aspects of email marketing, including how to end a professional email.